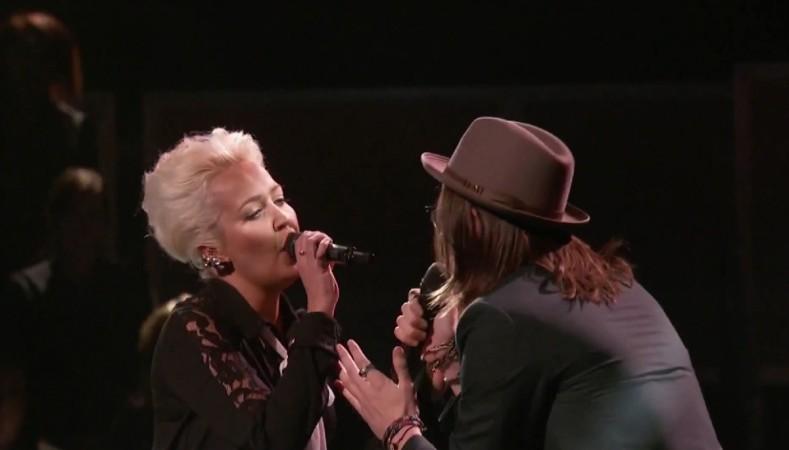 "The Voice" US Season 8 The Battles 2 saw tough fight with contestants pouring their heart out in the hope of staying alive in the competition. Following performance of three pairs on Monday, six more pairs hit the stage on Tuesday night to impress coaches - Adam Levine, Blake Shelton, Pharrell Williams and Christina Aguilera.
The Battles 2 Recap and Highlights:
Anthony Riley vs Travis Ewing of Team Pharrell: They performed "Get Ready" by The Temptations. It was a beautiful rendition and a close battle. Anthony's performance seemed to be a little better but Travis scored by taking his singing to another level on The Battles night. Pharrell picked Travis, perhaps based on his improvement, and Blake stole Anthony.
Ameera Delandro vs Sonic of Team Christina: They sang the song, "Masterpiece" by Jessie J. It was sort of a mismatch with Sonic beginning to dominate Ameera mid-way into the rendition and eventually came out the winner. Christina picked Sonic and Ameera had to go home.
Hannah Kirby vs Sarah Potenza of Team Blake: The rendered the song, "Gimme Shelter" by The Rolling Stones. It was a tough battle with powerful performance from both. It was difficult to pick the winner considering Sarah's powerful voice and Hannah's huge potential. Blake picked Sarah and Hannah is here to stay as Adam and Pharrell pressed their steal buttons. She chose to join Team Pharrell.
Blaze Johnson vs Michael Leier of Team Adam: They performed "Rude" by Magic! It was an odd pair with the song choice clearly favouring Blaze. As expected, Blaze outperformed his opponent and Adam picked him.
Cody Wickline vs Matt Snook of Team Blake: They rendered the song, "How Country Feels" by Randy Houser. It was a close battle with both the contestants delivering their goods with ease. However, Blake picked Cody and sent Matt home.
Paul Pfau vs Meghan Linsey of Team Pharrell: They sang the song, "Don't Let Me Down" by The Beatles. They put up a great show and matched point to point. Pharrell picked Paul as if it was a deliberate move to keep both his artists in the competition. As expected, all the other three coaches pressed their steal button for Meghan and she picked Blake.