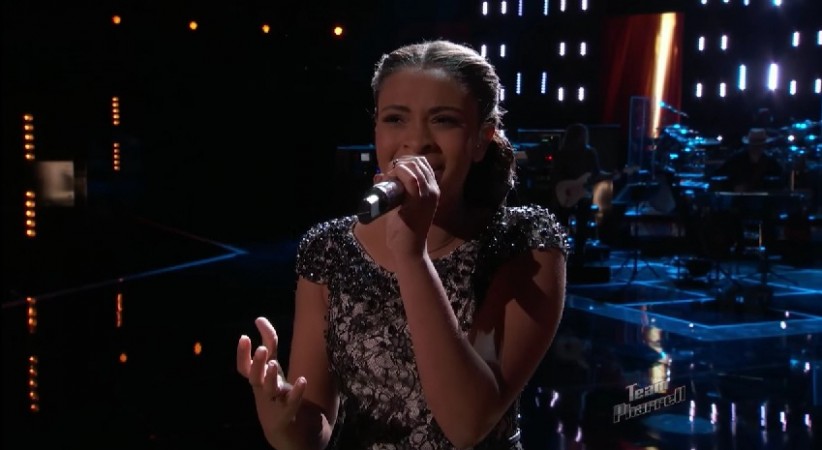 Competition in "The Voice" US Season 8 is getting tougher with the number of contestants being trimmed down drastically over the last few weeks. Top 12 finalists will perform again on Monday with the hope of progressing to the round of 10.
Last week saw eight contestants – two each from each team – being sent home. Sarah Potenza and Brooke Adee of Team Blake, Caitlin Caporale and Lowell Oakley of Team Pharrell, Tonya Boyd Cannon and Nathan Hermida of Team Adam, and Sonic and Lexi Davila of Team Christina were eliminated last week.
The remaining top 12 finalists will perform once again on Monday before their coaches – Adam Levine, Blake Shelton, Pharrell Williams, and Christina Aguilera.
Here is the list of contestants to hit the stage on Monday and their song choices:
Team Blake: Hannah Kirby - "Edge of Seventeen"
Team Christina: Rob Taylor - "I Put a Spell on You"
Team Adam: Brian Johnson - "If I Ever Lose My Faith in You"
Team Blake: Meghan Linsey - "Girl Crush"
Team Pharrell: Koryn Hawthorne - "Stronger (What Doesn't Kill You)"
Team Adam: Deanna Johnson - "Oceans (Where Feet May Fail)"
Team Pharrell: Sawyer Fredericks - "Imagine"
Team Christina: Kimberly Nichole - "The House of the Rising Sun"
Team Blake: Corey Kent White - "Why"
Team Adam: Joshua Davis - "America"
Team Pharrell: Mia Z - "Miss You"
Team Christina: India Carney - "Take Me to Church"
"The Voice" US Season 8 top 12 finalists will perform Monday. The episode will be telecast on NBC Television at 8pm EST (6:30am IST, Tuesday) and it will be live streamed online on NBC's official website.
Two finalists will be sent home on Tuesday based on their performance tonight. One of the three bottom three contestants will progress to next round via Twitter Instant Save while the other two will be eliminated in Tuesday's episode.