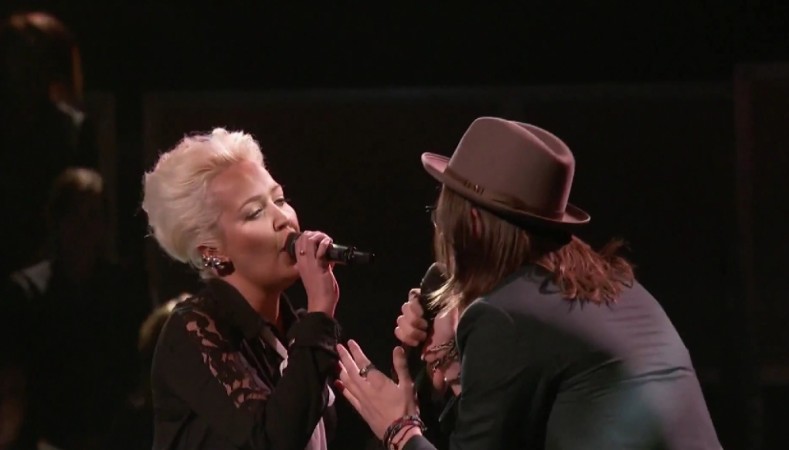 "The Voice" US Season 8 has entered another interesting phase with the Knockout Rounds to be premiered tonight. The remaining 32 contestants, who passed the Battle Rounds last week, will take the stage again and perform before their coaches - Adam Levine, Blake Shelton, Pharrell Williams, and Christina Aguilera.
Contestants performed duet in the Battle Rounds but they will take on different songs in the Knockout Rounds. They will give everything as their fate in the competition will be decided based on their performance.
"The Voice" US Season 8 Knockout Rounds premiere episode will be telecast at 8:00 pm EST on Monday on NBC Television (6.30 am IST, Tuesday) and it will be live streamed online on NBC's official website.
Each coach has eight contestants each to go to the Knockout Rounds running through three episodes. However, it is still not known who will perform tonight and their song choice.
Here is list of four teams:
Team Adam: Tonya Boyd-Cannon, Joshua Davis, Deanna Johnson, Nathan Hermida, Blaze Johnson, Barry Minniefield, Clinton Washington, Lexi Dávilla
Team Christina: Ashley Morgan, Sonic, Joe Tolo, Treeva Gibson, Kimberly Nichole, India Carney, Rob Taylor, Koryn Hawthorne
Team Blake: Brian Johnson, Travis Ewing, Sarah Potenza, Cody Wickline, Meghan Linsey, Kelsie May, Brooke Adee, Corey Kent White
Team Pharrell: Mia Z, Anthony Riley, Hannah Kirby, Paul Pfau, Caitlin Caporale, Lowell Oakley, Sawyer Fredericks, Jacob Rummell