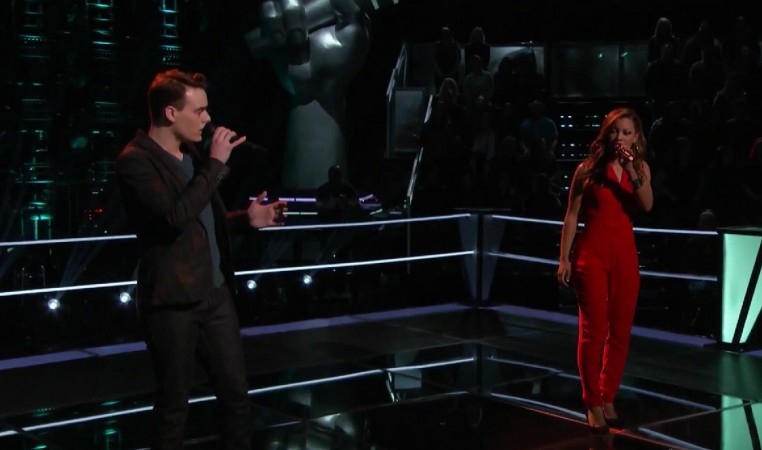 "The Voice" US Season 8 Battle Round is coming to an end tonight with the remaining 12 contestants hitting the stage to impress coaches - Adam Levine, Blake Shelton, Pharrell Williams, and Christina Aguilera - and proceed to the Knockout Rounds which is starting next week.
Interestingly, details of the final battle Round like pairings and song choice have been revealed ahead of the competition. According to spoilers, Noelle Bybee and Sawyer Fredericks of Team Pharrell will perform "Have You Ever Seen The Rain" by Creedence Clearwater Revival, Bren'nae DeBarge and Lexi Davilla of Team Adam to sing "Unwritten" by Natasha Bedingfield, Jeremy Gaynor and Rob Taylor of Team Christina to perform "Animals" by Maroon 5, Koryn Hawthorne and Vance Smith of Team Christina to render "Love Me Harder" by Ariana Grande and The Weeknd, Bay Brooks and Brooke Adee of Team Blake to sing "Style" by Taylor Swift, and the last pair, Corey Kent White and Jacob Rummell of Team Blake to perform "I Want Crazy" by Hunter Hayes.
"The Voice" US Season 8 Final Battle Round will be telecast at 8:00 pm EST on Tuesday on NBC Television (6.30 am IST, Wednesday) and it will be live streamed online on NBC's official website.
On Monday, six pairs took the stage with the hope advancing to the Knockout Round.
Team Pharrell: Caitlin Caporale and Briar Jonnee sang Alicia Keys' "Fallin'" and it was a good rendition. Pharrell picked Caitlin.
Team Adam: Barry Minniefield amd Jack Gregori took on Joe Cocker's "Feelin' Alright". Barry won the Battle.
Team Christina: Treeva Gibson and Katelyn sang "Addicted to Love" by Florence + The Machine. Treeva won the Battle.
Team Pharrell: Lowell Oakley and Kimberly Nichole took on the song, "Hound Dog" by Thornton. Pharrell picked Lowell and Kimberly was stolen by Christina.
Team Blake: Kelsie May and Brenna Yaeger sang Bobbie Gentry/Reba McEntire's "Fancy." Kelsie won the Battle.
Team Christina: India Carney and Clinton Washington sang Rihanna's "Stay." India won the Battle but Adam and Pharrell pushed their steal buttons. Clinton joined Team Adam.