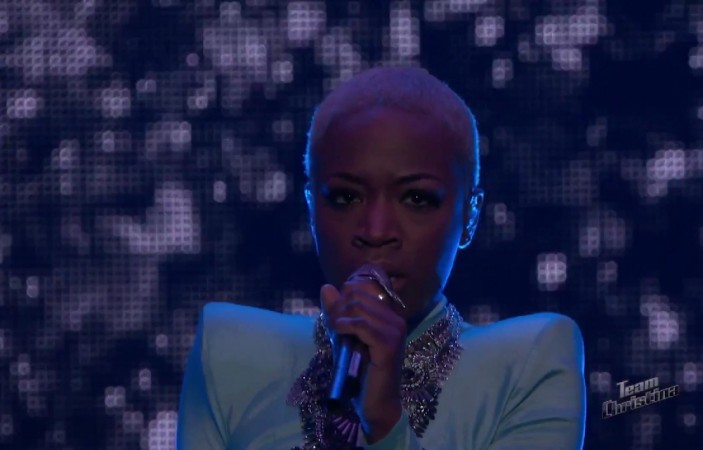 "The Voice" US Season 8 is not different from previous seasons on one aspect – coaches' sugar-coated feedback. They shower praises on all contestants after a certain stage of the competition that many viewers could be left confused but some singers certainly perform better than the others on a particular day.
Here is critical analysis of top 12 finalists' performances:
Hannah Kirby of Team Blake: She performed Stevie Nicks' "Edge of Seventeen." Her rendition was good but it was not better than her last week's performance or maybe a little lower. She lacked the tempo and it could be because of bad song choice. However, there is no denying that she has a unique tone to her voice that audience will like to hear more.
Rob Taylor of Team Christina: He rendered "I Put a Spell on You" by Screamin' Jay Hawkins. It was a good performance with impressive falsetto and growl yet many may feel that he over-acted on Monday. People will even compare to Jacquie Lee's performance of the song on The Voice 2013 but it is not fair to do so. Rob is a singer of his own – different.
Brian Johnson of Team Adam: He sang "If I Ever Lose My Faith in You" by Sting. It was a decent performance – blame bad song choice and flat arrangement. He is a talented singer but the song doesn't seem to fit his voice. He lost his momentum mid-way, which could push him to the bottom three.
Meghan Linsey of Team Blake: She sang "Girl Crush" by Little Big Town. She washed away doubts on the minds of the people following the "not-so-impressive" performance last week by putting up a great show on Monday. Her rendition of the 1960s R&B song was flawless with right dose of emotion.
Koryn Hawthorne of Team Pharrell: She rendered "Stronger (What Doesn't Kill You)" by Kelly Clarkson. She followed up her last week's beautiful performance with another powerful rendition on Monday. She sounded like she was trying a little too much to give justice to this song but it was overall a rocking show.
Deanna Johnson of Team Adam: She sang "Oceans (Where Feet May Fail)" by Hillsong United. She performed well but it was not her best moment and she looked like she was not comfortable with the song. She struggled in patches yet pulled through the technical imperfection and ended on a high.
Sawyer Fredericks of Team Pharrell: He sang "Imagine" by John Lennon. It was a beautiful performance with sweet tweaks here and there. However, it was not his best performance and he seemed to be uncomfortable with high notes. Many may ask if his disappearing note on "you-ooh-ooh" was intentional or a slip-up. Overall, it was a good rendition.
Kimberly Nichole of Team Christina: She sang "The House of the Rising Sun" by The Animals. It was perhaps the best performance of the night and perhaps one of best renditions on The Voice. Everything was spot on – voice, performance, movement, emotions, power and what not. It was a pleasure to watch her perform.
Corey Kent White of Team Blake: He rendered "Why" by Jason Aldean. It was a decent rendition but not his best. The song seemed to suit him, as he could showcase his masculine tone yet his performance was somewhat boring.
Joshua Davis of Team Adam: He sang Simon and Garfunkel's "America." It was a good performance. He started off his Voice campaign on a bang but poor song choices have failed to expose his talent and this song doesn't seem to suit him well, as he sounded a little boring. It will be interesting to hear him sing a powerful song.
Mia Z of Team Pharrell: She sang "Miss You" by The Rolling Stones. It was a beautiful rendition. She has a distinctive voice and knows how to make good use of it. However, she could have been given a song that suits her better. Anything could have happened to her performance on Monday of not for her creativity.
India Carney of Team Christina: She sang "Take Me to Church" by Hozier. It was a good performance. She is talented with different shades to her tone. Her coach must be aware that she would be compared to Matt McAndrew who performed the same song on The Voice 2014 top 12. It's not fair to compare the two singers but India lost the grip halfway into the song.
Going by their performances on Monday, it looks like Brian Johnson, Deanna Johnson, and Corey Kent White could be in danger of being placed in the bottom three.