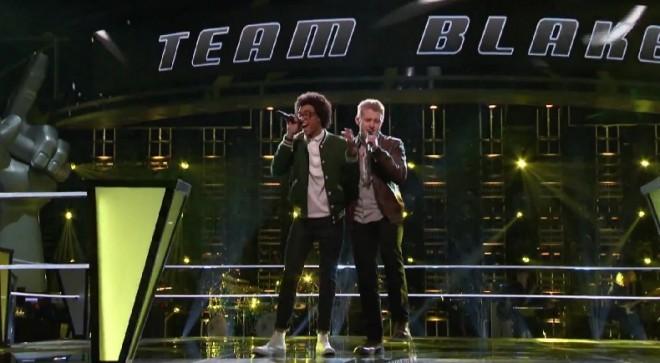 "The Voice" US Season 8 will go to the Knockout Round next week with the Battle Round wrapping up on Tuesday after the last six pairs hit the stage to impress their coaches - Adam Levine, Blake Shelton, Pharrell Williams, and Christina Aguilera.
The last six pairs (12 contestants) took the stage yesterday and five of them were sent home. With Pharrell using his last steal on Tuesday, each team has eight contestants each to go to next week's Knockout Rounds.
On Tuesday, Jeremy Gaynor and Rob Taylor of Team Christina took the stage to perform "Animals" by Maroon 5, and Christina picked Rob.
Noelle Bybee and Sawyer Fredericks of Team Pharrell were the next hit the stage. They performed "Have You Ever Seen The Rain" by Creedence Clearwater Revival and Sawyer was declared winner.
The next pair to hit the stage was Koryn Hawthorne and Vance Smith of Team Christina. They rendered "Love Me Harder" by Ariana Grande and The Weeknd and Koryn won the Battle.
Bay Brooks and Brooke Adee of Team Blake took on the song, "Style" by Taylor Swift. Brooke won the Battle.
Bren'nae DeBarge and Lexi Davilla of Team Adam were the next to take the stage. They sang the song, "Unwritten" by Natasha Bedingfield, and Lexi was declared winner.
The last pair to perform was Corey Kent White and Jacob Rummell of Team Blake. They performed "I Want Crazy" by Hunter Hayes. Blake picked Corey but Jacob was stolen by Pharrell.
Here is complete list Knockout Round qualifiers (32 contestants):
Team Pharrell: Mia Z, Anthony Riley, Hannah Kirby, Paul Pfau, Caitlin Caporale, Lowell Oakley, Sawyer Fredericks, Jacob Rummell
Team Adam: Tonya Boyd-Cannon, Joshua Davis, Deanna Johnson, Nathan Hermida, Blaze Johnson, Barry Minniefield, Clinton Washington, Lexi Dávilla
Team Blake: Brian Johnson, Travis Ewing, Sarah Potenza, Cody Wickline, Meghan Linsey, Kelsie May, Brooke Adee, Corey Kent White
Team Christina: Ashley Morgan, Sonic, Joe Tolo, Treeva Gibson, Kimberly Nichole, India Carney, Rob Taylor, Koryn Hawthorne