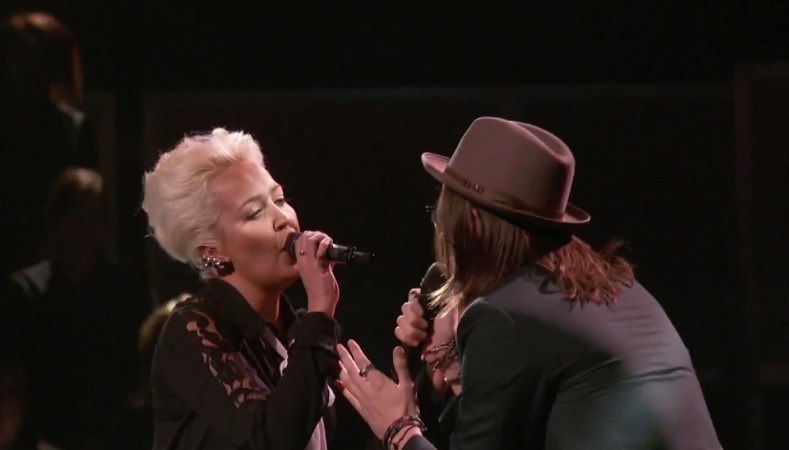 "The Voice" US Season 8 will witness more contestants hit the stage in the Battle Round 3 on Monday night. Nine pairs performed last week and some of them were sent home, and the remaining contestants will perform to impress their coaches - Adam Levine, Blake Shelton, Pharrell Williams, and Christina Aguilera.
"The Voice" US Season 8 Battle Round 3 and episode 8 will be telecast at 8:00 pm EST on Monday on NBC Television (6.30 am IST, Tuesday) and it will be live streamed online on NBC's official website.
Contestants, who are yet to perform in The Battle Round, are:
Team Pharell: Lowell Oakley, Sawyer Fredericks, Noelle Bybee, Kimberly Nichole, Briar Jonnee, Caitlin Caporale
Team Christina: Rob Taylor, Treeva Gibson, Gabriel Wolfchild, Joe Tolo, India Carney, Clinton Washington, Koryn Hawthorne, Katelyn Read, Jeremy Gaynor, Vance Smith
Team Blake: Brooke Adee, Kelsie May, Jacob Rummell, Bay Brooks, Brenna Yaeger, Corey Kent
Team Adam: Deanna Johnson, Nicolette Mare, Barry Minniefield, Bren'Nae DeBarge, Lexa Davila, Josh Batstone, Johnny Cash, Nathan Hermida
Last week saw nine pairs hitting the stage. Some advanced to next round while the others went home.
Here is recap of last week's performance:
Team Pharrell: Mia Z and Ashley Morgan sang "Put the Gun Down" by ZZ Ward. Mia won and Ashley was stolen by Christina.
Team Adam: Tonya Boyd-Cannon and James McNeice performed "P.Y.T." by Michael Jackson. James won the Battles.
Team Blake: Brian Johnson and Joshua Davis sang "Knockin' on Heaven's Door" by Dylan. Brian won and Joshua was stolen by Adam.
Team Pharrell: Anthony Riley and Travis Ewing performed "Get Ready" by The Temptations. Travis won and Blake stole Anthony.
Team Christina: Ameera Delandro and Sonic sang "Masterpiece" by Jessie J. Sonic won the Battles.
Team Blake: Hannah Kirby and Sarah Potenza sang "Gimme Shelter" by The Rolling Stones. Sarah won and Hannah was stolen by Pharrell.
Team Adam: Blaze Johnson and Michael Leier performed "Rude" by Magic! Blaze won.
Team Blake: Cody Wickline and Matt Snook rendered "How Country Feels" by Randy Houser. Cody won the Battle.
Team Pharrell: Paul Pfau and Meghan Linsey sang "Don't Let Me Down" by The Beatles. Paul won and Meghan was stolen by Blake.