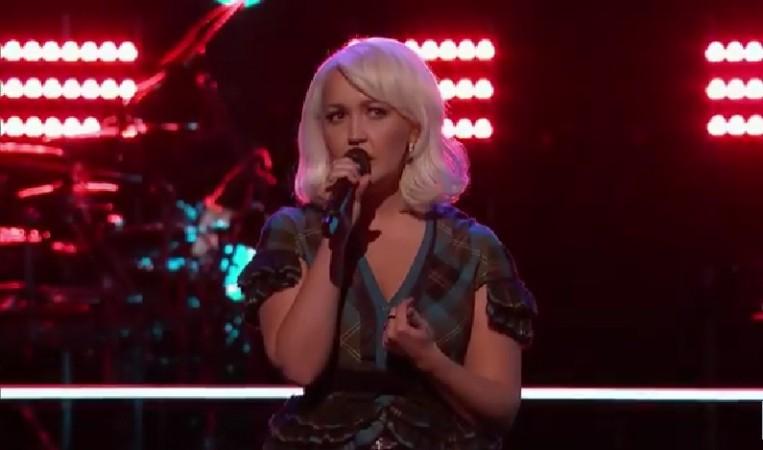 "The Voice" US Season 8 is getting closer to the end of the show with just a few weeks to go before the winner is declared. Top six finalists will hit the stage again for live performance Monday based on which America will decide who goes to next week's semi-finals.
The remaining top six finalists of the show, who will perform live tonight, are Kimberly Nichole and India Carney of Team Christina, Sawyer Fredericks and Koryn Hawthorne of Team Pharrell, Meghan Linsey of Team Blake, and Joshua Davis of Team Adam.
The contestants will sing two songs each – coach's choice and contestant's choice – and only one will be sent home Tuesday with two of them with least votes to sing for Twitter Instant Save.
Here is list of song to be performed by top six finalists:
India Carney — John Legend and Common's "Glory" and Sam Smith's "Lay Me Down"
Joshua Davis — U2's "Desire" and The Beatles' "In My Life"
Koryn Hawthorne — REM's "Everybody Hurts" and Aerosmith's "Dream On"
Kimberly Nichole — Tom Petty's "Free Fallin'" and Michael Jackson's "Dirty Diana"
Meghan Linsey – James Taylor's "Steamroller Blues" and "Amazing Grace"
Sawyer Fredericks — Daisy May Erlewine's "Shine On" and Al Green's "Take Me to the River"
"The Voice" US Season 8 top six finalists' live performance will be telecast Monday on NBC Television at 8:00 pm EST (6.30 am IST, Tuesday) and it will be live streamed online on NBC's official website.
Last week saw two contestants - Hannah Kirby and Corey Kent White – from Team Bkale being sent home. They were placed in the bottom three along with Team Christina's India Carney. Hannah sang Imagine Dragon's "Radioactive", Corey took on Keith Urban's "Somebody Like You", and India sang Christina Perri's "Human" for survival and India came out victorious.