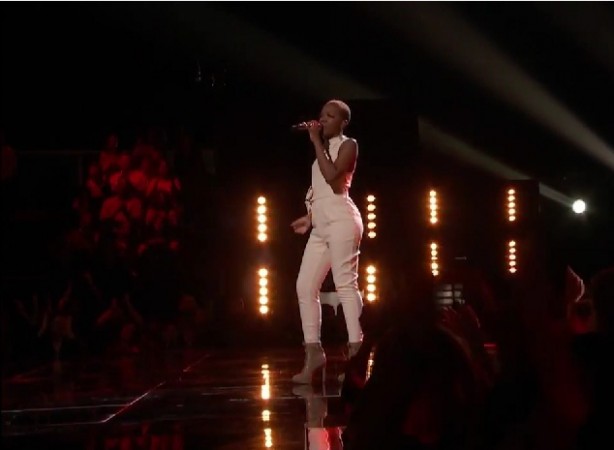 "The Voice" US Season 8 followers witnessed something shocking during the results episode on Tuesday when one of the most promising singers, perhaps a serious contender for the title this season, was sent home. Yes, we are talking about Kimberly Nichole's elimination.
America saved Sawyer Fredericks of Team Pharrell, Meghan Linsey of Team Blake, Koryn Hawthorne of Team Pharrell, and Joshua Davis of Team Adam on Tuesday, which meant India Carney and Kimberly Nichole, both from Team Christina, were at bottom two and had to perform again for survival.
India Carney took on the song "F—in' Perfect" by Pink for the Twitter Save performance and it was a good rendition. She started off beautifully, though she could have pumped in more emotion. On the other hand, Kimberly Nichole sang "Seven Nation Army" by The White Stripes. It was not her best performance in the season but was a good rendition.
What shocked many was that India Carney was through to next week's semi-finals through Instant Save and Kimberly Nichole had to go home.
Here is complete list "The Voice" semi-finalists:
Sawyer Fredericks (Team Pharrell)
Meghan Linsey (Team Blake)
Koryn Hawthorne (Team Pharrell)
Joshua Davis (Team Adam)
India Carney (Team Christina)
For once, it looked like Kimberly Nichole might give her coach Christina Aguilera her first win in the show. She was one of the most consistent singers of this season and shouldn't be at the bottom two in the first place after her solid performance this week. Contestants like Joshua Davis, India Carney and Koryn Hawthorne were not very impressive on Monday, but the American audience think otherwise.
Kimberly Nichole's rendition of Tom Petty's "Free Fallin'" and Michael Jackson's "Dirty Diana" on Monday was superb and she might have thought that she would be safe. Many might have considered her as a strong contender to reach the finals and even win the title, but her journey was cut short following her elimination. And her ouster from the show may have decreased Christina's chance of winning the season.
Christina still has India Carney in the fray, but she is not as consistent as Kimberly Nichole in the competition. Moreover, it won't be easy for her to beat the likes of Meghan Linsey and Sawyer Fredericks.