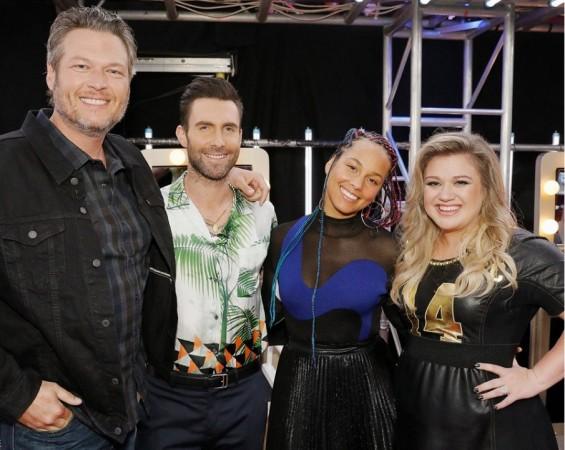 You may start facing two types of disappointments in The Voice season 14 as the knockout round has begun. You could be either disappointed with the poor performances of your favorite artists or their dismissal despite putting up a good show. We saw some talented singers leaving the show in the first episode of the knockouts, and more would follow in the upcoming episodes.
Contestants compete with their own team-mates in the knockouts but take on different songs and separately. In this round, the coaches -- Adam Levine, Alicia Keys, Kelly Clarkson and Blake Shelton – have only one steal (unlike two steals in the battles) but they can save one artist from their own team. So, each team will move to the live playoffs with six contestants each.
The Voice season 14 (USA 2018) has Jordan Smith, winner of show's season 9 as the advisor for Team Adam, Chris Blue (season 12 winner) for Team Alicia, Cassadee Pope (season 3 winner) for Team Kelly, and Chloe Kohanski (season 13) for Team Blake.
Some contestants, who have been impressive from the blind auditions till the battles, faltered in the knockouts. Three artists -- Jaclyn Lovey of Team Blake, Justin Kilgore of Team Kelly and Miya Bass of Team Alicia – were sent home after their performances in the knockout round.
Monday's episode saw Jackie Foster of Team Adam losing to her fellow contestant Spensha Baker in the knockouts but all the coaches, including his coach Adam, pressed their steal buttons. This time, she decided to switch to Team Alicia. Blake Shelton chose Spensha Baker over Austin Giorgio but he decided not to let him go and saved him. Another steal of the night was Team Adam's Drew Cole, who lost to Jackie Verna. Adam decided to save him while Blake pressed his steal button but Drew chose to stay in his previous team.
More contestants, most probably six pairs, will perform Tuesday in the hope of progressing to the live playoffs.
The Voice season 14's second knockout (episode 13) will be broadcast Tuesday at 8 pm EST / 5 am PT / 06:30 am IST (Wednesday) on NBC. The episode will be live streamed on NBC's official website (restricted to certain areas).