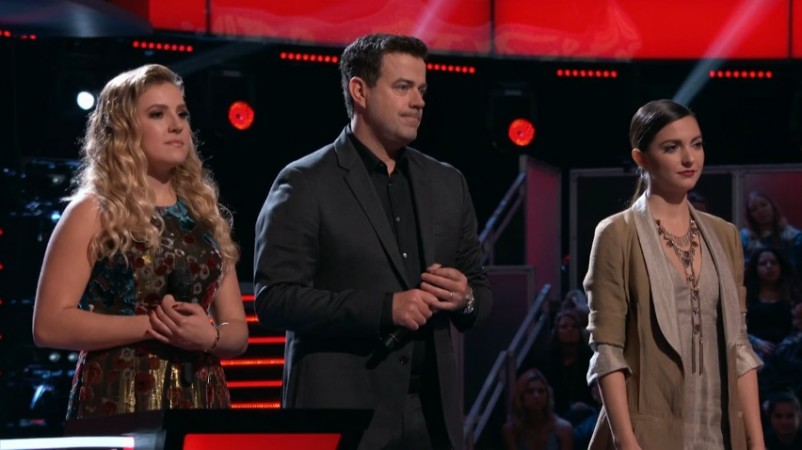 The first Knockouts of The Voice USA 2017 (Season 12) will kick off tonight. Acts of at least five or six pairs are expected to be aired in each of the three episodes that will come to an end next week.
Unlike in the Battles where two contestants from the same team perform a duet, which means the song could suit one singer more than the other, the artistes will perform different songs in the Knockouts though the competition is still among the teammates.
Also read: The Voice Season 12 performances leaked: What to expect from Knockouts
It appears like the Knockouts 1 will be interesting, and that's what the sneak peek suggests. The performance of Ashley Levin and Lilli Passero of Team Alicia has been leaked and it promises big. Ashley performs Reba McEntire's "Fancy," while Lilli Passero sings Amy Winehouse "Tears Dry On Their Own."
The Voice USA 2017 (Season 12) Knockouts 1 be aired on Monday at 8 pm EST / 10 ET/PT / 06:30 am IST (Tuesday) on NBC. It can be live-streamed on NBC's official website (restricted to certain areas) but it requires a subscription.
The organisers of the show haven't revealed the pairings and song choices of tonight's episode. So, all we can say at the moment is five or six pairings (10 or 12 contestants) from the 32, who survived the Battles, will take the stage tonight.
Here is the complete list of contestants in the Knockouts:
Team Adam: Josh West, Malik Davage, Johnny Hayes, Autumn Turner, Hanna Eyre, Jesse Larson, Davina Leone, Mark Isaiah
Team Alicia: Vanessa Ferguson, Jack Cassidy, Lilli Passero, Anatalia Villaranda, Quizz Swanigan, Ashley Levin, Chris Blue, Dawson Coyle
Team Gwen: Stephanie Rice, Hunter Plake, Troy Ramey, Brandon Royal, Johnny Gates, Brennley Brown, JChosen, Aaliyah Rose
Team Blake : TSoul, Caroline Sky, Enid Ortiz, Lauren Duski, Felicia Temple, Casi Joy, Andrea Thomas, Aliyah Moulden