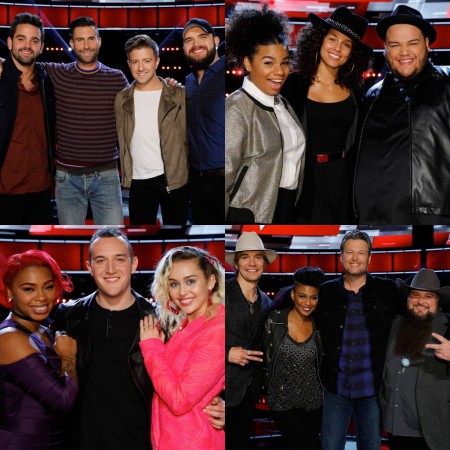 The Voice Season 11 (USA) 2016 will enter semi-finals next week, but coach Blake Shelton has only one artiste in his team, which means he will face the risk of going to the finals empty-handed.
The popular reality talent show is down to just eight artistes after two contestants from Team Blake were sent home on Tuesday night.
[READ: 'Little Angel' Miley Cyrus gets sweet surprise from Liam Hemsworth on her 24th birthday]
Singers Courtney Harrell and Austin Allsup of Team Blake, and Aaron Gibson of Team Miley were in the bottom three, which meant they had to perform again for the long instant save from the audience. Harell sang "If I Could Turn Back Time" by Cher on Monday, Allsup performed "Missing You" by John Waite and Aaron Gibson took on "Rocket Man" by Elton John.
Austin Allsup (Team Blake) performed "Tennessee Whiskey" by Chris Stapleton for the instant save. It was a good performance but not impressive in patches. Courtney Harrell (Team Blake) took on "Bless the Broken Road" by Rascal Flatts, but failed to make an impact with her powerful voice.
On the other hand, Aaron Gibson (Team Miley) sang "Don't Think Twice, It's Alright" by Bob Dylan and walked away with a lot of praise, and of course won the instant save. The exit of Courtney Harrell and Austin Allsup left Team Blake with only one artiste.
Adam Levine still has three contestants intact in his team, whereas Alicia Keys and Miley Cyrus have two artistes each in their respective teams.
Here is list of top 8 semi-finalists:
Team Adam
Billy Gilman
Josh Gallagher
Brendan Fletcher
Team Alicia
Christian Cuevas
Wé McDonald
Team Miley
Aaron Gibson
Ali Caldwell
Team Blake
Sundance Head