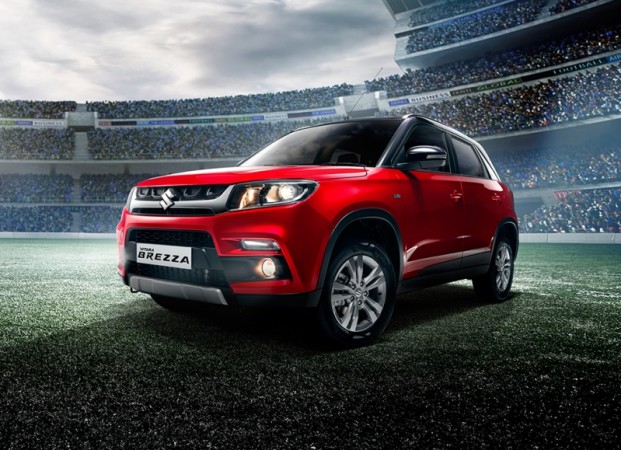 The launch of Maruti Suzuki Vitara Brezza and Hyundai Creta has rewritten the long-standing equation of utility vehicles segment in India. The latest sales figures reveal that Mahindra & Mahindra, which has a SUV only portfolio, is beginning to lose its monopoly in the market. With the arrival of the newcomers, Mahindra is now facing pressure in the segment like never before.
The Vitara Brezza compact SUV, which was launched in March, has powered Maruti Suzuki to become the second highest UV seller in India with 1,09,967 units sale during April-October 2016. The company also registered 139 percent growth in UV sales against 46,068 units sold during the same period last year without Vitara Brezza. Hence it is evident that Vitara Brezza single-handedly pushed UV sales of India's largest carmaker. Apart from Vitara Brezza, Maruti Suzuki's UV portfolio includes Gypsy, S-Cross and Ertiga.
UV specialist Mahindra & Mahindra increased its SUV sales to 1,31,593 units during April-October 2016 compared to the 1,17,246 during same period last year. The Mumbai-based manufacturer registered a 12.20 percent growth with the help of new products TUV300, KUV100 and refreshed Quanto to NuvoSport in the past 12 months.
Hyundai India also bettered its position riding on Creta SUV sales. Hyundai sold 56, 971 units of its SUVs during April-October 2016 against 31,049 units last year to register 83.5 percent growth. In the achievement, Korean car maker's India subsidiary overtook Toyota Kirloskar Motor (TKM) to the third place.
TKM is the fourth largest UV seller in India with 53,006 units sale in the first eight months of this financial year against 45,833 units in the same period last year, reports ET Auto.
Ford India is the fifth largest UV seller with 33,708 units sale in April-October 2016, against 24,924 units last year. Honda Car India made significant growth in its UV sales. The Japanese carmaker sold 17,030 units of its UVs against 6,710 units during April-October 2015. The company has also registered 154 percent growth driven by the newly-launched BR-V SUV.
Renault India, the maker of Duster SUV, is the seventh largest UV maker in India. The French outfit experienced dip in sales to 14,699 units from 17,355 units. General Motors, Tata Motors and Nissan are the eighth, ninth and tenth largest UV makers for April-October 2016, but all of them registered drop in sales.