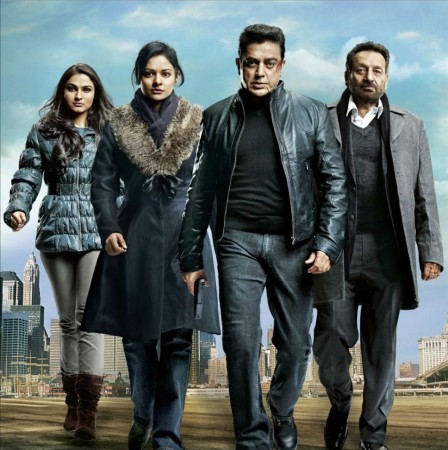 Kamal Haasan's spy thriller "Vishwaroopam" has accomplished a significant feat in making over ₹100 cores at the Indian box office. Besides the domestic market, the film has also maintained a strong hold in the US and UK.
"Vishwaroopam" starring Kamal in the lead role was released in the US and UK box offices on 25 January in two versions - Tamil and Telugu. After its fifth weekend of running, the film is still drawing audiences.
The Tamil version of the film collected ₹2.26 lakh ($ 4,184) from five screens in the US and ₹3.3 lakh (£ 4,024) from 11 screens in the UK. The Telugu version collected ₹40,030 ($ 740) from one screen at the US box office.
"#Vishwaroopam [Tamil] *total till Sunday* UK £ 308,350 [₹2.53 cr], USA $ 1,034,091 [₹5.57 cr] ... [Telugu] $ 199,698 [₹1.08 cr]," trade analyst and film critic Taran Adarsh tweeted.
The film is getting a bigger response from the UK circuit, where people are demanding for more number of screenings.
At present, the film is being screened in eight prime locations in the UK and is running to packed houses. To accommodate fans from different parts of the country, distributors are planning to shift the locations of the movie's screening, The Times of India reported.
Meanwhile, Kamal's fans in Malaysia are in for a surprise as the film is set to release there this week. The Malaysian government had banned the film over its controversial content but had eventually lifted the ban on 19 February. A special screening of the film will be shown on Wednesday and the worldwide screening will begin on 28 February.
"A special screening will be held on Wednesday. The movie would be shown nationwide from Thursday (Feb 28) onwards," P Gopal, Lotus Five Star Group's programming manager, told Free Malaysia Today.
Also Read:'Vishwaroopam' Box Office Collection: Has Kamal Haasan Starrer Crossed ₹200 Crore Mark?