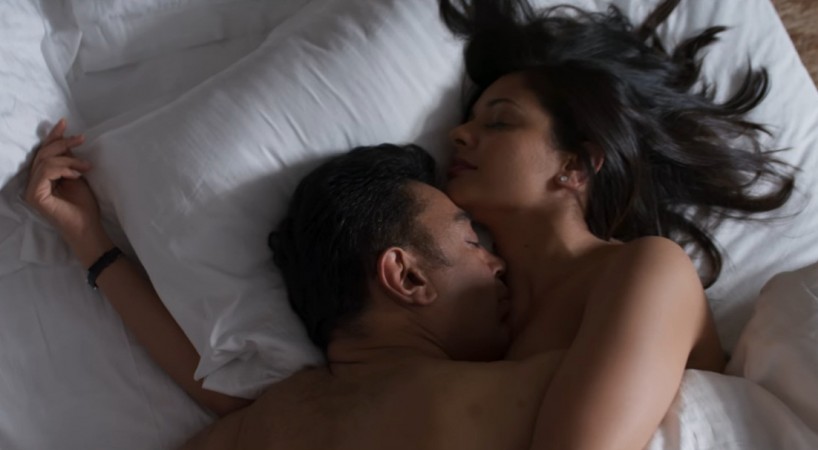 Kamal Haasan's spy thriller Vishwaroopam 2 has finally released in theatres on August 10 across the country after hitting several roadblocks and overcoming financial hurdles. The movie managed to acquire a U/A certificate but it took as many as 14 cuts which were demanded by the Central Board of Film Certification (CBFC) because of the political and religious satire incorporated in the film.
Here's the list of 14 cuts commisioned by CBFC in Vishwaroop 2 (Hindi version).
| | | |
| --- | --- | --- |
| Sr. No. | Reel No. | Description |
| 1 | .... | Reduced to flash the scene of killing of Ashmito. Also modified as discussed the scene of Ashmita's mutilated body parts in car, and completely removed the second scene of it. |
| 2 | 1.57 | Removed the scene of Omar vomiting out blood. |
| 3 | 58 mins (reel 2) | Muted the mention of specific location in Delhi. |
| 4 | Beginning | Inserted fiction disclaimer with Hindi voice-over. |
| 5 | In the last fighting sequence | Reduced to flash the shots of twisting of body parts and killing by knife (piercing knife in the neck). |
| 6 | Just before intermission | Radially blurred the background visual of arrow pierced in the neck of submerged body. |
| 7 | Reel 2 | Muted the word 'IFS ' and 'foreign service ' 2. |
| 8 | Reel 2, 21 Mins | Reduced the duration of scene showing spurting of blood from neck after the car accident, to a single shot/flash (Replaced with visuals of Hero walking in the forest). |
| 9 | Reel 4/53 Mins and song after intermission | Reduced to flash, the scene of Nirupama taking shower.Also removed the lip-lock scene on bed in song after intermission and replaced with visual of hero and heroine looking towards each other. |
| 10 | Reel 4, 72 mins | Removed the shot of blood spilled on glass after Mehta kills himself. |
| 11 | Reel 4, shot 61 | Muted Nirupama's dialogue jaise aap logo mein allowed hai. |
| 12 | Reel 7 | Reduced the visual of tearing of burkha by Ashmita. |
| 13 | Reel 8 | Modified the scene directly showing killing of woman and children. |
| 14 | Wherever those occur | Muted the sexually abusive word at 8.02.17 |
For Vishwaroopam 2 (Tamil version), 22 cuts have been made which also the bedroom scene trimmed including muting of words like Allah, Bharat Mata Ki Jai, Pakistan and South Block. Take a look.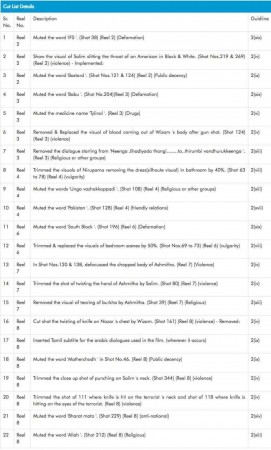 Vishwaroopam 2 opened to mixed reviews from critics and audience alike.
"The first half of Vishwaroopam 2 grips you in parts but has too many things happening, although it will make you curious about the post-interval story. The second half has lengthier scenes and is far more gripping, making it a good watch," an excerpt of Vishwaroop 2 movie review by IBTimes India.
The spy thriller revolves around a master plan of Al-Qaeda terrorist Omar Qureshi to attack New York City which gets destroyed by the Indian Intelligence Bureau Agent Wisam through his investigation. Omar somehow manages to escape from New York. Wisam, on the other hand, is given the responsibility to kill Omar and other terrorists.
Vishwaroopam 2 also stars Shekhar Kapur, Waheeda Rehman, Rahul Bose, Pooja Kumar, Andrea Jeremiah, Jaideep Ahlawat, Nasser, Anant Mahadevan, Yusuf Hussain and Rajendra Gupta. Music composer Ghibran is the man behind the background score which adds a dramatic value to the film.