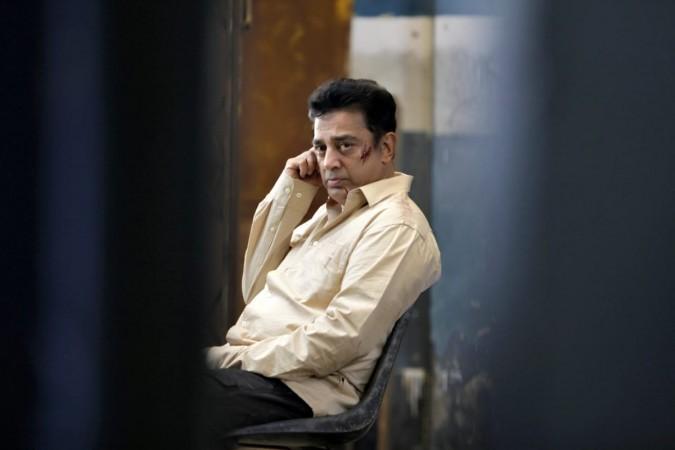 Vishwaroopam 2 is a spy thriller, written and directed by Kamal Haasan. The multilingual movie has Pooja Kumar, Andrea Jeremiah and Shekhar Kapur in the key roles.
Ghibran has composed the music for the film, while the cinematography is by Sanu Varghese and Shamdat Sainudeen. Vijay Shankar has edited the movie.
Story:
In the first movie, Wisam Ahmad Kashmiri (Kamal Haasan) foiled the terrorist attacks on New York planned by Omar Qureshi (Rahul Bose).
In the sequel Vishwaroopam 2, Qureshi is back with his evil plans and plans to destroy India and London.
The Indian spy fights to save the world, but the challenge for him is that he cannot trust anyone. The story is peppered with several sub-plots, including the mother-son connection(Kamal and Waheeda Rahman) and how troubled couple Wisam-Nirupama (Kamal-Pooja) start trusting each and genuinely fall in love.
What Reviewers Say?
The reviewers have given an average of 2.00 ratings out of 5 for Vishwaroopam 2. Kamal Haasan has managed spice up the story by adding necessary commercial ingredients like romance, action and drama. The combat scenes and overall outlook of the movie have the feel of a Hollywood movie, but the story is unnecessarily dragged, say many critics.
There are also special references to the under-water action sequence and gravity-defying stunts in the climax. Performance wise, Kamal Haasan shines as an actor, who comfortably does romance and action sequence even at the age of 63 years. Andrea Jeremiah looks good in action sequences and Waheeda Rahman's portion has come out well. Pooja Kumar does her role well, but Rahul Bose and Jaideep Ahlawat's performance are not up to the mark, point out critics.
What Critics say? Find it out below:
IBTimes: The first half of Vishwaroop 2 grips you in parts but has too many things happening, although it will make you curious about the post-interval story. The second half of Vishwaroopam has lengthier scenes and is far more gripping, making it a good watch.
Ratings: 3
NDTV: The film's numerous explosions, gunfights, ticking time bombs and verbal jousts add up to a lot of sound and fury that signify that the makers are trying far too hard to make it work. They hit a wall. Five years is a long time in a movie industry. The world has moved on, terrorism has gotten much worse, and Mission Impossible has just delivered its best instalment ever. Vishwaroop 2, hopelessly stuck in the past, is a step backwards.
Ratings: 1.5
Times of India: Vishwaroop 2 is a spy thriller and it serves up some good genre aspects. The combat scenes, the stunts and the props all look like they belong to a big-ticket Hollywood film. But for all it's frills, the film feels too stretched. A lot of the dialogue-heavy scenes featuring Shekhar Kapur and Anant Mahadevan don't really make the cut.
Ratings: 2.5
Indian Express: The plot is choppy, carelessly hopping continents (India, US, Afghanistan) and time zones. When the characters—spooks and traitors, forgetful mothers and sentimental sons, and pretty women making up to the great spymaster— are not killing each other, either via hand-to-hand combat, knives and guns, they are busy flitting about in all manner of transport, and deploying weapons.
Ratings: 1.5
IANS: The film is virtually Kamal Haasan's show and he with his natural charm and charisma, subtly portrays himself as an efficient and mentally agile Raw agent, a loving husband and a dutiful son. He manages to do this with oodles of cinematic liberty which includes excellent edit cuts and computer generated images.
Ratings: 2.5