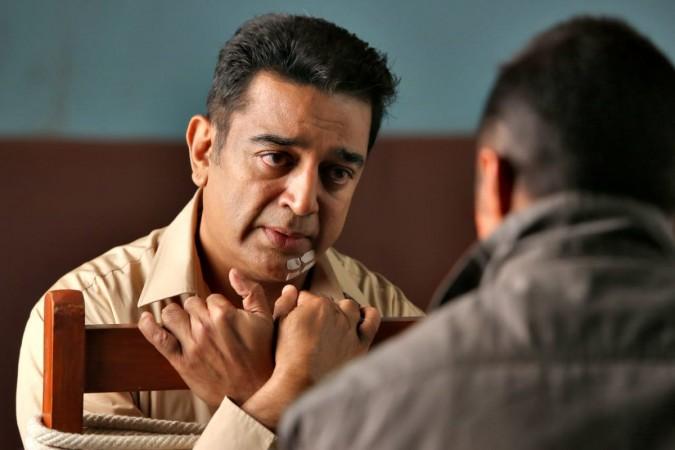 The box office collection of Vishwaroopam 2 has heavily dropped in theatres across Tamil Nadu. The Kamal Haasan starrer is expected to make recovery on Wednesday, August 15, due to the Independence Day holiday.
Going by reports, Vishwaroopam 2 has earned Rs 35 lakh on its fourth day (Monday) in and around Chennai. The movie had collected Rs 92 lakh on the first day and the business increased to Rs 1.03 crore on its second day.
On Sunday, the film came out with flying colours by earning Rs 1.07 crore. The four-day grand total now stands at Rs 3.38 crore.
In Tamil Nadu, the movie has grossed around Rs 15 crore in four days at the box office. In the first three days, it had raked in Rs 14 crore.
The makers are now hoping that the movie will improve its collection in the days to come. With Independence Day holiday on Wednesday, Vishwaroopam 2 now expects that there will be considerable improvement in the box office numbers for the multilingual movie.
The situation is not, however, encouraging for the Hindi version of Vishwaroopam 2.
The Kamal Haasan starrer had run into troubles at the eleventh hour of its release. The financial issues between producer Aascar Ravichandran and distributors of previous movies -- I and Maryaan -- put the latest movie in trouble as it could not simultaneously release in Madurai.
Further, the special morning shows were cancelled across the state. Upon release, the mixed reviews for the flick also did not help the cause.
Kamal Haasan's Vishwaroopam 2 is an international spy thriller which is a circumquel to the actor's Vishwaroopam. The first instalment was released in 2013 and the latest project was delayed for one or the other reasons.