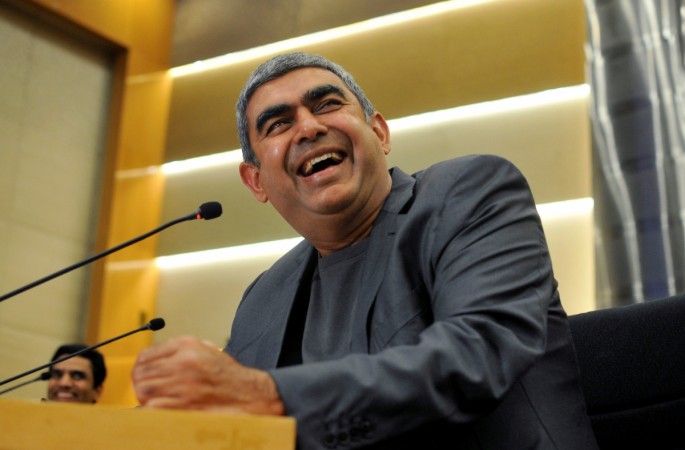 Vishal Sikka has resigned from his position as Chief Executive Officer (CEO) and Managing Director (MD) of Infosys. Pravin Rao has been appointed as the interim CEO, according to reports.
Sikka will now be the executive vice-chairman of the tech giant.
"After much reflection, I have concluded that it is indeed time for me to leave my current positions as MD and CEO, and I have communicated my resignation to Sesh," Sikka said in his resignation lette, referring to Infosys Chairman R Seshasayee.
Personal attacks to blame?
He added: "It is clear to me that despite our successes over the last three years, and the powerful seeds of innovation that we have sown, I cannot carry out my job as CEO and continue to create value, while also constantly defending against unrelenting, baseless/malicious and increasingly personal attacks."
Read the full text of his letter HERE.
In a letter to stock exchanges, Company Secretary AGS Manikantha confirmed his decision to step down as the CEO, saying the resignation was accepted at a board meeting on August 18.
Vishal Sikka, however, will continue to focus on strategic initiatives, key customer relationships and technology development.
Last year, Infosys board members decided to extend Sikka's tenure as CEO by two years to 2021, crediting him with placing India's second-largest software services firm back on the growth path.
'Not CEO material'
The resignation came just hours after Mint reported that Infosys co-founder NR Narayana Murthy had said in an email he had been told by at least three indpendent directors that Sikka was more suited for the role of chief technology officer (CTO) than CEO.
"All that I hear from at least three independent directors, including Ravi Venkatesan (co-chairman), are complaints about Sikka. They have told me umpteen times that Dr Sikka is not a CEO material but CTO material," he wrote in the email.
"This is the view of at least three members of the board, and not my view since I have not seen him operate from the vantage point of an Infosys board member," added NRN.