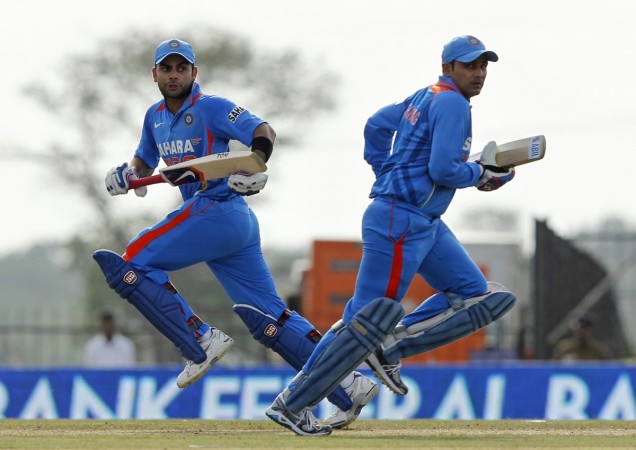 Captain Virat Kohli has become undisputed in the Indian team and his "wrong decisions" are not being questioned by any team-mate, according to former opening batsman Virender Sehwag.
Ahead of India's third Test against South Africa in Johannesburg today (January 24), Sehwag revealed that the side had a "drawback" and it should be rectified soon to get the right results.
Also read: Sehwag picks India XI for 3rd Test
39-year-old Sehwag felt that there was no player in the current squad to question Kohli which was not right.
"There is no player, could be in the sports (support) staff, in the current team to go and point out to Virat Kohli that he has taken a wrong decision and give suggestions," the "Nawab of Najafgarh" told India TV.
He added, "You will become a good captain when you get suggestions and pick one of them and implement it. When there is nobody to give suggestions you (Kohli) will feel you are doing everything right. Maybe that is wrong for the team. This is a drawback in the team. Be it Ajinkya Rahane, Rohit Sharma, KL Rahul, Shikhar Dhawan, Murali Vijay or the bowlers, there is nobody to give him suggestions."
Also read: Shastri disagrees with Kohli
He also said communication skills were important for the coaching staff involving Ravi Shastri, Sanjay Bangar and Bharat Arun. According to him, Kohli might not be listening to Shastri.
"Communication skills are very important when you are in the coaching staff. It is their role to talk to the captain and players. There could be suggestions coming from Shastri but I feel he (Kohli) is not listening to him. It is important for them to sit down and have the right strategy to win the Test," he felt.
Sehwag said it was crucial for India to contribute as a team rather than depend on one individual to win a Test match.
"To win Test matches you need contributions from four to five players. One individual can't win you Tests, it can happen in T20, T10," he said.
India lost the opening two Tests of the three-match series in Cape Town and Centurion. The Tests will be followed by six ODIs and three T20Is.