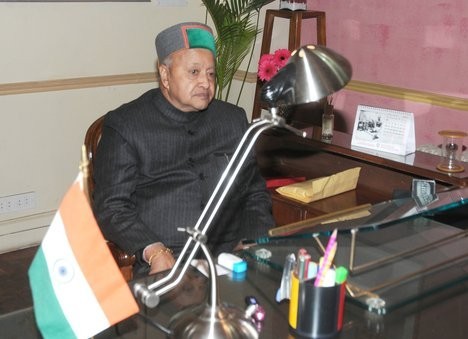 Irked by the allegations of forging income tax records, Himachal Pradesh Congress unit chief Virbhadra Singh on Wednesday threatened media personnel who sought his reaction to the latest set of charges by the BJP.
"I will break your cameras. Don't you have any work? The allegations are wrong and baseless," Singh told media persons in Ani in Kullu district.
Singh's reaction came a day after BJP leader Arun Jaitley accused the former Union minister of altering income tax record books and receiving unaccounted cash piles for his own benefit. Jaitley sought a special investigation team to look into these charges saying that the Central Bureau of Investigation can't be trusted to launch a probe.
An income tax raid at Ispat Industries Limited (IIL) in 2009 showed that Singh, who was serving as steel minister at that time, received a payment of ₹2.8 crore from the steel firm, NDTV reported.
Singh's business partner-cum-LIC agent Anand Chauhan had reportedly invested the alleged payments into a bank account and used it to purchase LIC premiums worth crores for Singh and his family.
Singh was said to have modified his tax returns to show a quantum jump in income to the tune of over ₹6 crore earned from the sale of his apple orchards. Reports said that Singh and Chauhan had earlier signed a document for the management of the orchards, in which the latter would receive 2 percent of the income proceeds.
Singh denied these allegations saying, "The information carried out by a section of the media is factually incorrect and details are being put out to create confusion in the public, and even divert my attention from the election campaign."