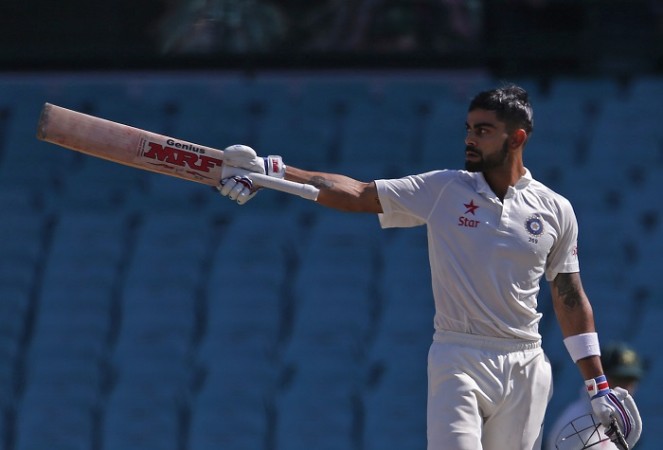 India cricket team Test captain Virat Kohli expressed admiration after meeting and taking a photo with one of the living legends of tennis -- Roger Federer.
This is not for the first time that an Indian cricketer has been photographed with Federer, as Sachin Tendulkar, who has been spotted during the Wimbledon a number of times, has also taken a picture alongside him.
''A Day i'll never forget. Greatness on and off the court. @rogerfederer Absolute legend," Kohli tweeted after meeting Federer.
Along with the tweet, the Indian cricketer also posted a picture, where he is alongside Fedex.
But, it was not only the Indian star, who chanced upon taking a photograph alongside Federer, as Australia's new star, Steven Smith also had the privelege of spending a little time with the Swiss master, who just won the Brisbane International title.
Federer is also gearing up for another Grand Slam title tilt at the Australian Open, with the competition starting on 19 January.
The Australian Smith, who also walked away with the Man of the Series award in the recently-concluded four-match Test series against India, tweeted "It was an absolute honour to meet my favourite athlete of all time tonight. Thanks @rogerfederer and best of luck in the Australian open,"
He posted a picture on the social networking site which included another Australian Tennis star, Lleyton Hewitt, along with Federer, Smith and his girlfriend, while the tweet read, "Thanks Lleyton and @rogerfederer. 2 great guys and amazing athletes. #fast4''
The Indian and the Australian cricket players are now preparing for the ODI tri-series down under with the first match of the series to be played on 16 January, when England clash with Australia at the Sydney Cricket Ground.
The tri- series is going to be a very important one for the three teams participating in the competition -- England, Australia and India -- for this will be their big competitive warm-up prior to the 2015 World Cup in Australia and New Zealand, which is scheduled for 14 February to 29 March.