India's proud record in the shortest format, of having won 10 series on the bounce was on the line, in Sydney. Virat Kohli did not have an entirely enjoyable year with the bat in T20Is. The stage was set for the captain and he delivered. Taking control of the chase, the skipper shepherded the chase perfectly and then won his side the game.
It was a brilliant display of batsmanship by the skipper, one that has sent out a message loud and clear before the Test series.
Australian wicket-keeper for the series Alex Carey has taken note of Kohli's dominance and believes that the hosts need to stop the Indian captain in the upcoming Test series. He believes that Australia have the bowling attack to keep in check in the upcoming series.
'It will be different in Tests'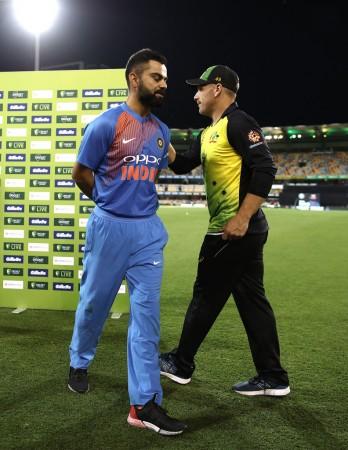 "We've seen him do that before and he did it again tonight. Hopefully in Tests, it will be a different story – we've got some good pacer bowlers and Nathan Lyon. It will be a really good summer of cricket ahead," Carey said at the post-match conference.
Mitchell Starc, who was included in the side for this match, will be one of the key components Australia's plans in the Test series and Carey says that he along with Pat Cummins and Josh Hazelwood will pose threats for the Indian batting order.
"He's played a lot of cricket now. He's a real professional, looks after his body, come off a Shield game and into a T20 game now. I'm just as excited as you guys to watch him take on India along with Josh Hazlewood and Pat Cummins and obviously Lyon. He'll be fine," he said," Carey said.
After the win in Sydney, captain Kohli was all praise for his side for the way they executed their plans and for the way they stuck to their tasks and backed their skills.
"Overall, skill wise, we were better on the day than Australia. With the ball, we were more professional today. I thought it was a 180 wicket." "When our openers get into the zone they're difficult to stop. Things become pretty easy when those two guys (Rohit and Shikhar) do the job for us," Kohli said.