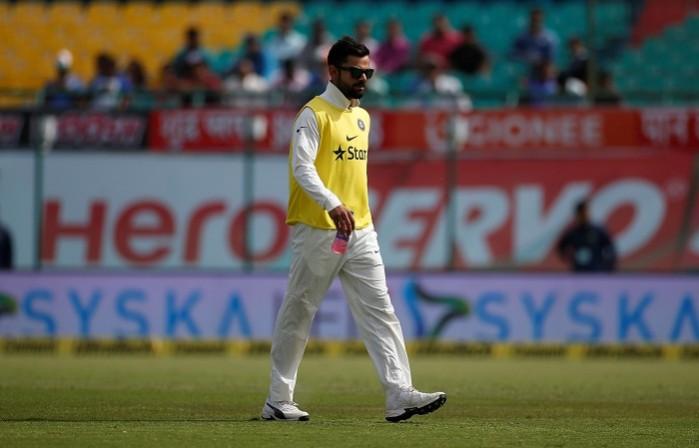 India defeated Australia in the fourth and final Test match at Dharamsala to regain the Border-Gavaskar Trophy but Indian captain Virat Kohli said they are no longer friends with the Australian players. The India-Australia Test series witnessed a lot of controversy — both on and off the field.
Also read: India vs Australia Test series review
The Indian captain in particular had been targeted by the Australian media and a number of that country's former cricketers for calling his Australian counterpart Steve Smith a cheat for his 'brain fade' act during the second Test in Bengaluru. Kohli, who missed the fourth match, was even compared with US President Donald Trump. Cricket Australia's CEO James Sutherland also stepped in and said Kohli perhaps does not know the spelling of sorry.
"No, it has changed for sure. I thought that was the case but it has changed for sure. As I said in the heat of the battle, you want to be competitive but yeah I have been proven wrong. The thing I said before the first Test, I have certainly been proven wrong and you won't hear me say that ever again," Kohli said.
The Indian skipper had injured his shoulder in the third Test match in Ranchi and the Australian cricketers were seen making fun of Kohli's shoulder injury while Australian captain Steve Smith had called Murali Vijay a "f****** cheat" for claiming a catch on Monday, the third day of the fourth match when the hosts were bundled out for a paltry 137 to lose the game and the series.
In his post match interview Kohli made it clear that his team was highly motivated and would give it right back when poked.
"Regardless of whether we are on top or not, we speak, if something pokes us we speak and give it right back. All people don't digest it well but we take it very well and we give it back even better."
Despite Kohli saying his men are no longer friends with the Australian players, the Australian captain said that things did boil over unnecessarily and apologized during his post match interview and was hoping this experience will help his grow as a player and leader.
"I set myself high standards and I wanted to lead from the front with my performances. I have sort of been very intense in my own little bubble and at times I have let my emotions and actions just falter a little bit throughout this series and I apologise for that. That's a big stride for me moving forward and something I can really learn from and continue to grow as an individual and as a leader," Smith said.