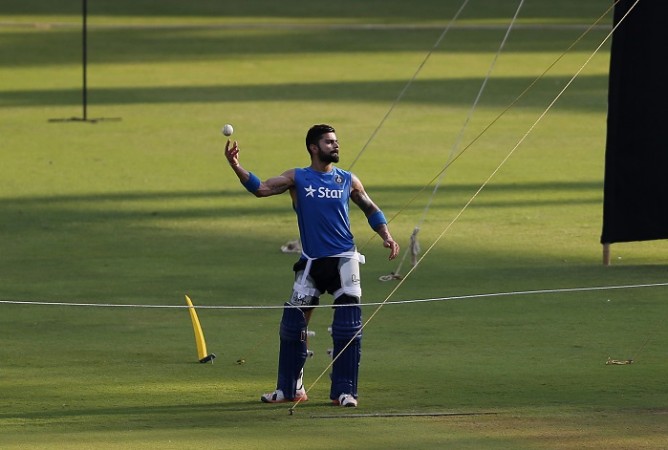 Home Tests mean more familiar wickets and with that comes the likelihood of India going back to the four-bowler theory and bringing in an extra batsman. When Virat Kohli announced at the toss of the fourth Test match against the West Indies in Trinidad that Cheteshwar Pujara had come in for Ravindra Jadeja, there were quite a few eyebrows raised: What happened to the five-bowler theory then, which Kohli has been espousing so much?
The India captain explained the reason behind the decision to play Pujara, while speaking to reporters after the fourth Test match against the West Indies was drawn, with no play possible on the final four days.
"We thought when we lost a Test in Galle [against Sri Lanka last year], we were a batsman short there," Kohli aid. "In the series against South Africa at home as well we were in trouble quite a few times because we were a batsman short. We wanted to try out this combination.
"If we play four specialist bowlers back home, when we feel we don't have the need for the fifth bowler... if you play three spinners on spin-friendly wickets that should get the job done. Even if you play two spinners and two quicks, Rohit [Sharma] and [Murali] Vijay can come in and bowl ten overs for me.
"Away from home you need all your best bowlers because you don't know what the conditions will do or how the wicket will behave. That is an aspect that we felt, against the strong teams that we are going to play against at home, world-class sides, they are going to capitalise on those windows of chance that we give them.
"This was something we wanted to try, in case we want to play with this combination going ahead the team should be comfortable with it. And they should know how to play in this situation as well. If you play with only one combination teams are going to start planning better against you. You need to be flexible. Unfortunately we couldn't get game time."
Kohli has been a big advocate of playing five bowlers, so that might sound a bit contradictory, but on the wickets that India are expected to play in back home – they are scheduled to play 13 Test matches -- there is a good chance that two spinners and two fast bowlers will do the job. If the wicket is expected to take turn, one fast bowler and three spinners should be enough, so trying out the combination with an extra batsman in the lineup is not such a bad thing. While great teams are made by taking chances, pragmatism, when required is an equally important quality.
Quality is what India showed in this series against the West Indies, particular with the batting in the lower middle order. R Ashwin, who was named the man of the series, seemed to enjoy his role at No.6 – with the extra batsman now, though, he is likely to drop down to No.7 or No.8 – while Wriddhiman Saha, while still yet to entirely convince, showed signs of making the wicketkeeper position his own. He might not be an MS Dhoni – but then nobody was expecting him to be that – but he does have some fighting qualities that bring a lot of positives to this India side.
For me the biggest positive was Saha getting runs in the lower order plus Ashwin coming good at No. 6," Kohli added. "Those were areas that were very important for us to solidify and we have done that in this series. I'm pretty happy.

"I hope we can keep on making that aspect of our team stronger because when you are in a tough situation in Test matches those are the positions that matter a lot. We've seen teams who have done well and won consistently, their lower order has contributed, especially the bowlers.

"These are important runs that take the momentum away from the opposite team. That's something we wanted to work hard on. We have done that and got the results in this series."
A result in the final Test match would have kept India as the No.1 ranked team in the world, but a washout has meant Kohli's side have now dropped down to No.2, with Pakistan taking that top spot for the first time since the inception of these rankings in 2003.
Kohli, though, did not seem too bothered. "We always knew when we went up to No.1 that this was temporary," Kohli said at the presentation ceremony. "The other teams have played 10-15 matches more than us, and the competition is so close, that the rankings are bound to keep changing.
"We just want to put a solid effort back home and we will see where we end up at the end of the season."