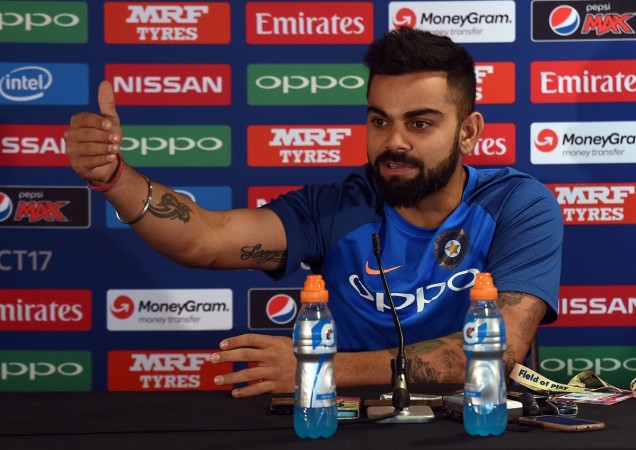 A lot has been said about the possible rift between Indian cricket team skipper Virat Kohli and Team India coach Anil Kumble in the past few weeks. Well, a day ahead of the crucial India vs Pakistan showdown in the ongoing ICC Champions Trophy, Kohli has lambasted India's sensational media outlets for spreading hogwash.
In the pre-match press conference on Saturday June 3, Kohli dismissed the reports of a possible rift between him and Kumble and answered every possible question thrown at him by the reporters, before giving each a piece of his mind.
The press conference took place in Birmingham.
Here are the takeaways from Kohli's press-conference:
Kohli vs Kumble?
Without actually being a part of the Indian dressing room, a lot of things are being written and speculated, which is very strange. There are no problems whatsoever.
The people who are indulging in these kind of speculations from a far distance are doing this for their livelihood. Well, good luck to them. We, on our part, are focussed on our livelihood.
Working with Kumble has been really good and it's been a wonderful journey.
On the BCCI inviting bids for new coach
I fail to understand why people have so much problem with the process of electing a new coach. This has been followed last year as well.
The team is totally focussed on the ICC Champions Trophy at the moment, and explaining the entire process for appointing a new coach by the BCCI is not my job.
On what's wrong with India's sensational media
In India, we have too much lack of patience about everything and are speculative on every matter from a distance, without even getting into the heart of it.
Even after writing such rumours, no one comes up and apologises for their fault, if their reports are found totally a hoax. That's what disappoints me.
You guys don't even take the ownership and mention that we were wrong to write such things.
Possible difference of opinion with Kumble?
Let's look at our own homes. You don't have to agree on everything with your family members.There are always things which you don't agree to. But you never leave your family.
It's a very basic human nature.
My request is to stop spreading the rubbish which you are doing and keep the focus on cricket and our performance.