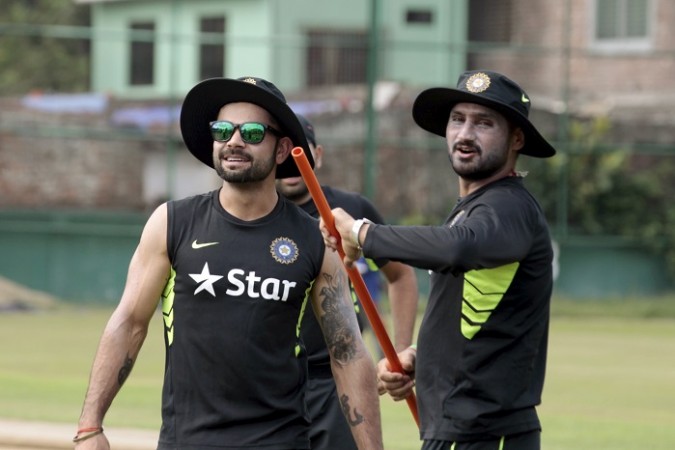 One has to salute the determination and hunger of Virat Kohli, who has asked the BCCI to include him in the India A team for the second Test match against Australia A in Chennai. The unofficial, four-day second Test match starts on 29 July.
Virat Kohli will gain full fitness and get some competitive cricket practice ahead of India's tour of Sri Lanka, with the first Test starting on 12 August.
India team for tour of Sri Lanka announced
Australia A are a strong side and could prove to be a good test for Virat Kohli ahead of the Sri Lanka tour, which will also enable him to get in the right frame of mind.
Australia A are currently playing India A in the first unofficial Test match in Chennai and Virat Kohli will be eager to score some runs when he faces Australian pacemen such as Andrew Fekete and Gurinder Sandhu, who have been impressive in Chennai so far, in the second Test match.
Virat Kohli will be India's key batsmen in the Sri Lankan tour, where they are scheduled to play three Test matches. Apart from Kohli, the Indian A team also has KL Rahul and Cheteshwar Pujara, players who have been both included in the tour of Sri Lanka.
The Indian duo of Rahul and Pujara will be eager to impress captain Virat Kohli and increase their chances of getting included in the first eleven. To be fair, it looks an improbable task for Rahul, despite scoring 96 runs in the first day of the unofficial Test, to find a spot in the team as an opener. This is so because Shikhar Dhawan and Murli Vijay have put up solid performances at the top of the batting order for India.
Pujara has a decent chance of making it to the Starting XI if he puts up an impressive performance in the two unofficial Test matches against Australia. Pujara scored 55 runs on the first day of the Test match in Chennai. Rohit Sharma will prove to be Pujara's biggest competitor for a starting role in the Test series.
The Indian squad for Sri Lanka has been announced and all the senior pros have returned back to the Test squad after being handed rest during the tour of Zimbabwe.
Senior cricketers were provided rest after playing continuous cricket in the last six to seven months, including the India tour of Australia, the ICC Cricket World Cup 2015 in Australia and New Zealand, IPL 2015, followed by India tour of Bangladesh.