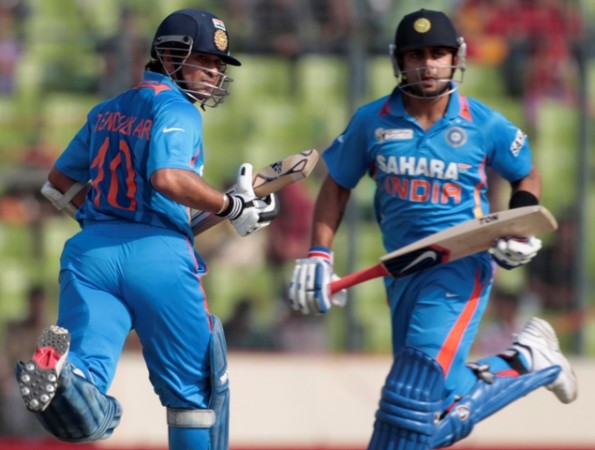 Pakistan T20 cricket team captain Shahid Afridi feels there has been, is and will be only one Sachin Tendulkar and none of the present cricketers, including Virat Kohli, can be compared to the "master blaster."
Kohli, who made his ODI debut in 2008 earned plaudits from all quarters for his swashbuckling batting and in some years, the fans and the critics were seeing him as the next Sachin Tendulkar. There are also a lot of uncanny resemblances between the batting styles of the two and there's nothing more exquisite than their brilliant cover drive.
Tendulkar played just one T20 International in his career, so it is baseless to compare him with Kohli when it comes to Twenty20 cricket. The comparison between them in the ODI format got some real momentum in the recent years and following Tendulkar's retirement from ODI cricket in 2012, people were calling Virat Kohli the next Sachin Tendulkar.
Shahid Afridi, who has been one of the flag-bearers of Pakistan cricket for close to two decades, doesn't have similar thoughts, though.
"I have said this before too - no one should be compared to Sachin Tendulkar," Afridi, 36, said in an exclusive interview to the Times of India. "He has been a great role model for millions of Indians and for those who follow the sport across the world.
"Virat has been a champion player too. He has been consistent over the years and his aggressive nature is great for the game. Both are fantastic cricketers and I wouldn't put one above other," the all-rounder added.
Kohli, 27, broke Tendulkar's record earlier this year to become the fastest player to reach 25 ODI centuries in cricket. He achieved the milestone in just 162 innings, whereas the "master blaster" achieved the feat in 234 innings.
Kohli has already made 7,212 runs in ODI cricket in just 163 innings, averaging 51.51 runs. Tendulkar, on the other hand, retired from ODI cricket scoring 18,426 runs from 452 innings, averaging 44.83.
The stats are in favour of Kohli and the Indian Test cricket captain also has a better strike rate compared to Tendulkar, but having said that, the Royal Challengers Bangalore (RCB) man himself mentioned that he doesn't want to be compared with the legendary Tendulkar as the "little master" was only his inspiration behind taking up the sport.
"I started playing cricket because of him [Tendulkar]," Kohli said in an interview to Cricket Australia in February. "I got inspired to do things that he did for the country.
"I always visualised myself in those situations and I was lucky enough to be a part of the same changeroom (as him) when I was starting and he was still around. He really helped me with little things that I could improve in my game.
"If he saw something he would come up to me himself and tell me, 'This is something you can work on', which is quite rare; you don't (often) have people of his stature come and talk to youngsters like that, pointing out things like that. So he always gave you confidence.
"I batted with him a few times as well, we had some big partnerships, and that for me is the most special thing I could have asked for," Kohli added.