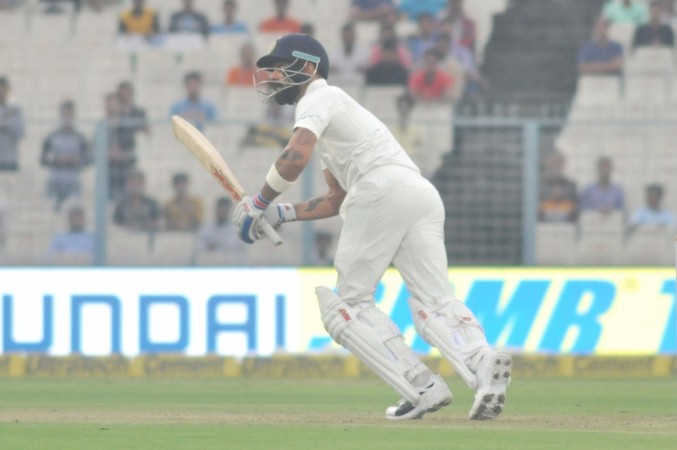 Indian captain Virat Kohli has scaled new heights in international cricket. He has made batting look easy. He has shredded the record books with his incredible batting peformances. But are there any weaknesses in him? Yes, says an Australian great.
Kohli has so far scored 51 centuries in international cricket. He has already been declared a ODI great by many experts as he has registered 32 tons in quick time - 202 games. He has tallied 9,030 runs.
Also read: Another milestone beckons Kohli
In 62 Tests (4,975 runs), he has 19 hundreds. But if at all the Delhi right-hander could be "exploited" it would be in the longer format where he is "most vulnerable", said Matthew Hayden.
When Hayden was asked how he would have kept Kohli "quiet" on the field, he told "DNA" newspaper, "I think, like every player, Virat has got some challenges within his game that can, and have been, exploited. But still, he is an extremely consistent player. Over the formats of the game, Test cricket would be where he would be most vulnerable."
He continued, "Statistics have proved that and something he will be working on really hard as well. It would have been a great battle between the Australian side that I played in and Virat Kohli at the crease."
46-year-old Hayden, who played 103 Tests and 161 ODIs for Australia, admitted that there were not "many glaring weaknesses" in Kohli's batting.
"Like it was with a Laxman, a Dravid, a Tendulkar, a Ganguly, those great battles between our world class side, and we had a side that's probably focussed and disciplined on each batsman. I don't think there are too many glaring weaknesses in Virat."
The 29-year-old Kohli averages over 50 in all three formats of the game. He will be back in action from Saturday (December 2) as India host Sri Lanka in the third and final Test of the series in Delhi. India hold a 1-0 lead after winning the second Test in Nagpur.