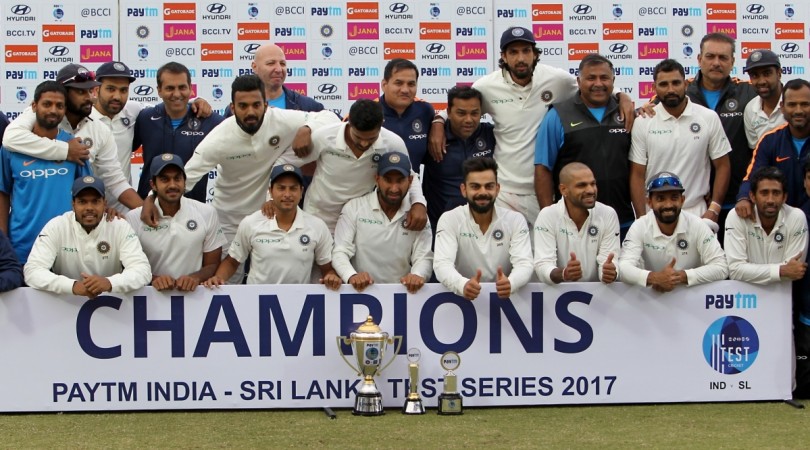 Ahead of India's three-Test series against South Africa, the Virat Kohli-led side received a huge backing of former captain and batting legend Sachin Tendulkar.
India are set to play the opening Test in Cape Town from January 5, 2018. They are aiming to create history as no Indian side managed to win a Test series in the "Rainbow Nation".
Also read: Steve Smith breaks Tendulkar record, again
44-year-old Tendulkar, the leading run scorer in both Tests and ODIs, heaped praise on the current Indian outfit as he compared the "Men in Blue" to the dominant Australian side of the 1990s.
"We are doing exceedingly well. What I feel is, what Australia was for 15-20 years in the 1990s when I toured Australia, they were a tough side to beat. A tough side to compete with. And wherever you travel, you beat everyone. I see that phase coming in Indian cricket because the balance is so good," Tendulkar told former Australian fast bowler Brett Lee on the latter's "Up in the Grill" show on his Youtube channel.
He added, "If you see the batters, they can come and roll their arms. And the bowlers can come and contribute those important runs. And we bat quite deep. You get a number nine player turning up in Test cricket and scoring runs. That is luxury."
Tendulkar, who played in a world record 200 Tests and 463 ODIs, said he had no regrets in his illustrious 24-year international cricket journey. Among other records, he is the only batsman to have scored 100 international centuries.
"Really really hard to imagine my life without cricket. Cricket was like oxygen for me. Impossible to survive without cricket. It is my passion and continues to be my passion. And I don't have any regrets. So many guys ask me 'you missed out on those beautiful days - from age 16 to 19'. I was just happy playing cricket for India.
"How many guys get to do that, play at 16 for India? It was a huge honour and above all my lifestyle was very simple. My requirements were not big. I was really happy if I got time to be on cricket field. And that gave me all the satisfaction and happiness," Tendulkar said about his playing days as a youngster.
Lee was part of the Australian squad which ruled world cricket. They had the likes of Glenn McGrath, Shane Warne, Ricky Ponting, Steve Waugh and others.
After the Test series, India face South Africa in six ODIs and three T20Is.