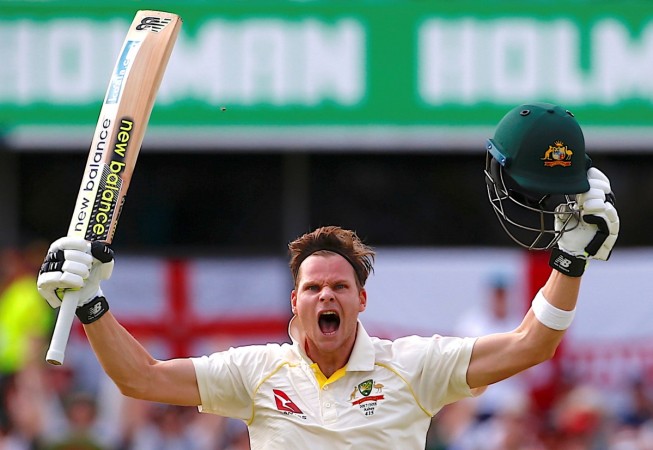 Australian captain Steve Smith, yet again, has come in for high praise. This time, for his record-breaking double century in the third Ashes Test against England today (December 16).
The 28-year-old Smith remained unbeaten on a superb 229, his career-best in Test cricket. Thanks to his knock and Mitchell Marsh's 181 not out, Australia were in command after the third day's play on Saturday at Perth's Western Australia Cricket Association (WACA) ground.
Former cricketers and fans took to social media to hail Smith's innings. This was his 22nd Test hundred and he is now the third fastest to the milestone, after Sir Don Bradman and Sunil Gavaskar.
He reached the landmark in 108 innings surpassing Sachin Tendulkar (114). Bradman did it in 58 visits to the crease while Gavaskar took 101.
Former skipper and Australian great Ricky Ponting, who had earlier anointed Smith as the number batsman in the world in Test cricket, once again, backed his compatriot in the current debate over his contemporaries Virat Kohli, Joe Root and Kane Williamson.
Ponting, who holds Australia's record for most Test centuries with 41, said Indian captain Kohli was on a "pretty high pedestal" but he, Root and Williamson were "nowhere near as good" as Smith.
"You look at the other better players in the world; Virat Kohli is on a pretty high pedestal but then you look at Joe Root and Kane Williamson, as far as I'm concerned those guys are nowhere near as good as Steven Smith and I've said that for a long time," Ponting told Cricktet Australia's (CA) website today.
Smith has been in prolific form. This is for the fourth consecutive year that Smith has tallied more than 1,000 Test runs in a calendar year.
The right-hander has so far hit 14 Test tons as captain and is nearing the 6,000-Test runs mark. He averages more than 60, the highest among current batsmen, who have played 50 or more Tests.