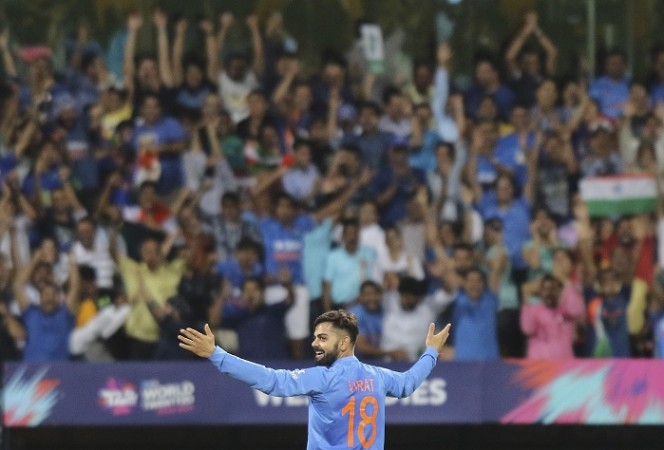 India cricket team hotshot Virat Kohli is a cricketer par excellence, many are aware of that. He has the looks to kill as well and many of us are aware of that too. The 27-year-old star is maintaining the best of his shape ahead of the India vs New Zealand Test series, which gets underway later this month.
Kohli's men take on Kane Williamson's team in the first Test match at the Green Park Stadium in Kanpur on Sept. 22. The second Test match is scheduled to start on Sept. 30 in Kolkata, while the third one is scheduled for Oct. 8 in Indore.
The swashbuckling Indian batsman is working really hard in the training sessions and is hitting the gym regularly to achieve the aim of staying in the best of his shape.
During an interview with the BCCI earlier this year, Shanker Basu, the Head Strength and Conditioning coach of the India cricket team, stated: "A lot of athletes will say that they are very lucky to find a coach, but I will instead say that Virat Kohli is an exceptional person, so I was very lucky to have an athlete like him. He is extremely professional.
"Virat will never challenge you once he is convinced about your methods. I found an athlete who was ready to go through the grind and work hard consistently whenever the need arose. He is very good with his nutrition plans and discipline factors. He has also made a lot of lifestyle changes. Kudos to him."
Apart from the strength regimes, cardio is one of the key aspects of staying fit. Lifting weights without proper cardio training can only leave any gym-goer lose out on stamina. Kohli gave out a sneak peek of his daily cardio session.
15 minutes on the bike at level 3 maintaining an RPM (Rotations per minute) of 120

No rest in between

Straight onto the treadmill for 10 strides at a speed of 19 km/hr and level 1 on incline of 20 seconds each

Rest for 10 seconds in between.
Looks comfortable enough? Wait for the surprise. "All of this using the altitude training mask which makes it twice as hard. Train hard train smart," Kohli adds.
According to BodyBuilding.com, elevation masks attempt to improve cardiorespiratory fitness by simulating low oxygen at a high altitude. At high altitudes, the atmospheric pressure is reduced. The partial pressure of oxygen, or the total units of oxygen per given area, is also reduced. The air is simply thinner, which is why breathing at high altitudes is more difficult.
"He [Kohli] has very strong goals, lofty ambitions and his aspirations are unbelievable. He is willing to bend backward to reach there," continued Basu in his interview. "He is one guy who is in pursuit of excellence. The present goal is to increase his strength.
"Virat has decided to become the best athlete in the world and sky is the limit. There are a lot of role models ahead of him in terms of sheer athletic abilities and he will never shy away from competition. He will grab it with both hands. Virat will pursue it honestly and earnestly. He will not rest until his goal is reached."
Kohli, who reached 7 million followers on Instagram, meanwhile, took to Twitter to give a glimpse of his cardio session, where he hits the treadmill and the bike to the iconic "Rocky" track "Eye of the Tiger," performed by American rock band Survivor.
Check out his video
Full song - Eye of the Tiger (Survivor)