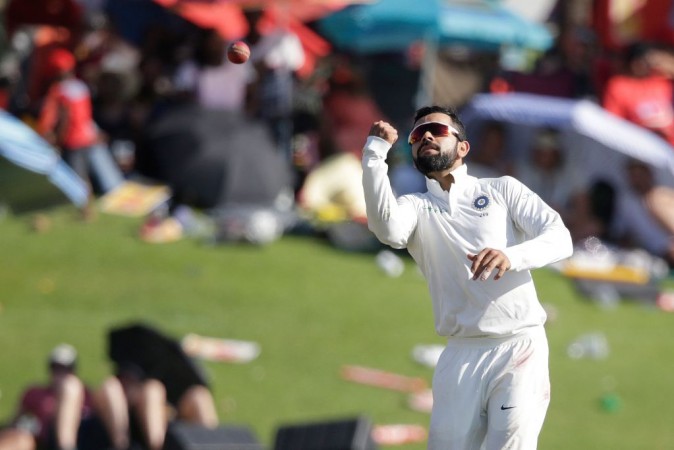 Former India captain Virender Sehwag has blasted Virat Kohli, criticising the Indian captain's selection calls for the ongoing second Test against South Africa in Centurion.
Also read: Is Dhawan Team India's 'Bali ka Bakra'? Gavaskar questions Kohli's decisions
The batting great expressed disappointment at the exclusion of Bhuvneshwar Kumar in the second Test despite being the only positive for the team in their 72-run loss in the first Test last week.
India included Ishant Sharma in place of the Meerut fast bowler citing the former's ability to make better use of the traditionally bounce-rich SuperSport Park wicket.
Having dropped Shikhar Dhawan after just one failure in Cape Town, Kohli should drop himself if he fails to perform in Centurion, according to the batting great.
"Watching Virat Kohli exclude Shikhar Dhawan for just one Test failure, and Bhuvneshwar for no reason at all, [I feel] Kohli should drop himself in the third Test at Johannesburg, if he fails to perform in Centurion," Sehwag told India TV on Saturday, January 13.
Also read: Kolkata to Centurion: India captain Virat Kohli does a U-turn on Bhuvneshwar Kumar
He added: "Excluding Bhuvneshwar wasn't the right decision. Citing that Ishant might benefit with his height, Virat Kohli has hurt Bhuvneshwar Kumar's self-confidence.
"They could have played Ishant in place of any other bowler. Bhuvneshwar performed well in Cape Town and excluding him like this isn't justified."
Bizarre tactics from Team India
India made three changes to the playing XI on Saturday, dropping Bhuvneshwar and Dhawan to bring in KL Rahul and Ishant. They were also forced to replace Wriddhiman Saha with Parthiv Patel as the Bengal wicketkeeper-batsman had sustained a hamstring niggle.
Dhawan failed against bouncers in both innings of Cape Town Test and thus Rahul, who has fared better against rising deliveries in the past, was included in Centurion. However, Bhuvneshwar's exclusion was a surprising call as he had picked up six wickets and hit 38 runs across two innings in the first Test.
Kohli faced the wrath of fans and experts on Twitter as they lashed out at what seemed to be bizarre selection calls.
Nonetheless, India finished Day 1 on a high after picking up three quick wickets in the post-Tea session. South Africa could manage only 269/6 after a strong start from Aiden Markram (94) and Hashim Amla (82).