Virat Kohli, the heart-throb of the nation, has his fans scattered all around the world, and even international cricketers are big fans of his batting skills. Fans wait for hours to get his autograph and share one frame via selfies while lesser-known cricketers also love to have a memorabilia signed by the Indian captain.
English woman cricketer, Danielle Wyatt is a big Kohli fan and the winning member of the ICC Women's World Cup 2017 seems to have got a bat as a gift from the Indian player.
The Englishwoman proudly showed that on Twitter, and stated she will be training and wants to try out the bat. Wyatt thanked Kohli, but the shocking thing was the name on the bat. It read, 'Virat Kolhi', not Virat Kohli.
She had got the spelling wrong, and Twitter made it known as well. One wonders if she made that spelling error by mistake or for some odd reason, did she make it on purpose.
Had it been for some of the Sri Lankan cricketers, who have some tough and long names, it would have been understandable for Wyatt to make a mistake, but with Kohli, how can one even misspell a five letter-name?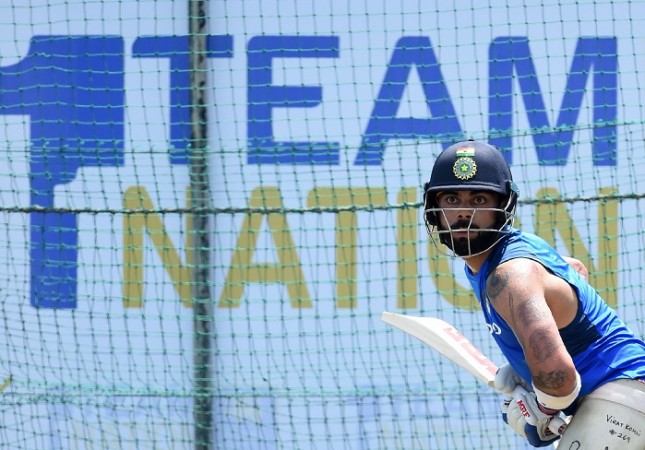 This is not for the first time, she has made this spelling mistake, as in 2014, the English all-rounder had wrote on Twitter, 'Kholi, marry me'.
Kohli is presently preparing for the upcoming India vs Australia series, which includes five ODIs and three T20s, starting Sunday, September 17. The limited overs series should be a cracker of a contest as both the teams are loaded with quality players, who can win matches on their own.
Here are some interesting reactions on Twitter
Are.. Kholi nahi.. Kohli. I mean it's Kohli.. not Kholi...Still unknown about the real name of ur crush ??

— Raj Barnwal (@rj_subh) September 11, 2017
Frist write true name dear, it's not kholi ? its kohli?

— sanju (@parmar13294) September 12, 2017
Its "kohli", not "kholi" (kholi in a native indian language means a room)

— pavan sharma (@Pavan_sharma_07) September 11, 2017
Not your fault it's the commentators , ''Vyraat kholiiiiiiiii hits it over mid on for four''

— Umang Manek (@umangmanek) September 11, 2017
Kindly check the spellings before writing in the precious things, it's Kohli not kholi..@Danni_Wyatt

— sreenivas Adumalla (@anantha4u1246) September 12, 2017