Amid speculations that India's tour to South Africa, initially scheduled for December 2017, would be cancelled due to a busy domestic schedule, it has now emerged that Virat Kohli's men will travel abroad to take on the Proteas from January 2018.
Cricket South Africa wanted to host a Boxing Day Test against India later this year, which also was to be part of a long tour that was scheduled to have four Tests, five One Day Internationals and two Twenty20 matches in December.
However, the Board of Control of Cricket in India's (BCCI) Tours and Fixtures committee met on Tuesday, August 1, to confirm a four-month long home season between September and December 2017. It was announced that India would play 23 matches -- three Tests, 11 ODIs and nine T20s -- against Australia, New Zealand and Sri Lanka.
The board however maintained that India would tour South Africa, but only after the end of the home series against Sri Lanka between November 15 and December 24. Speculations though were rife about a possible shortened trip to the African powerhouse.
India cricket schedule 2017: Fixtures, series, matches from September-December
On the other hand, the matches against Sri Lanka were not part of the initial schedule, but the series was brought forward from February next year as the island nation will be hosting a tri-nation series -- Independence Cup -- during that period.
Meanwhile, a BCCI official has confirmed that India will be featuring in a full-length tour, consisting of four Tests, five ODIs and 2 T20Is. India are expected to leave the country on 28 December and begin the first Test on January 3.
"Yes, the tour to South Africa is very much on. It will be a full-fledged series, involving four Tests, five ODIs and 3 T20Is," the official told the Times of India.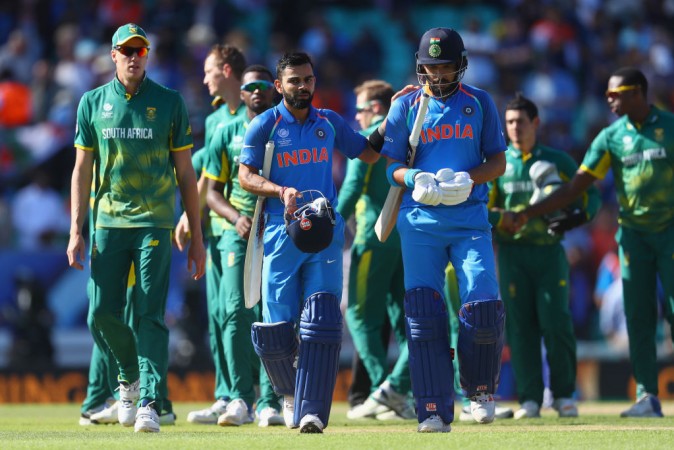 Big test for Kohli, Shastri
India though will be playing only one warm-up match in South Africa as opposed to BCCI's plans of helping Kohli and Co. warm up to the conditions better with two practice games.
While former captains have hinted that Kohli has not yet faced the real test of battling in overseas conditions as captain, the proposed South Africa tour will certainly be a big challenge to the skipper, who has led India to domination at home.
With Rahul Dravid not part of support staff for overseas tours, the onus will be on batting coach Sanjay Bangar and head coach Ravi Shastri to get the team battle ready, escpecially after a long domestic season.
Notably, the last time India toured South Africa in 2013, they were beaten 1-0 in the Test series and 2-0 in the ODI series.