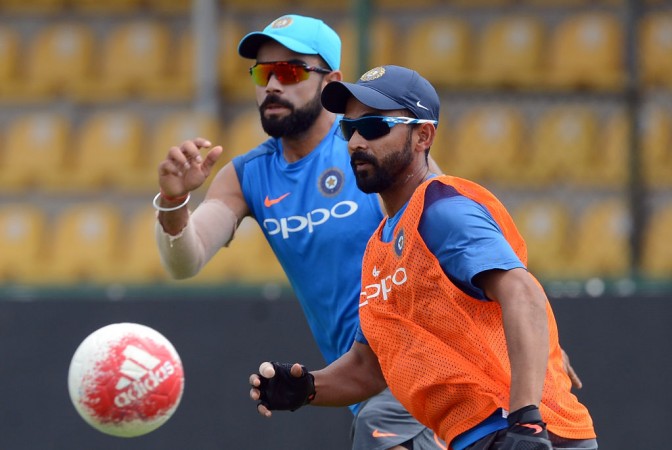 Ajinkya Rahane was not preferred by India for the first two Tests against South Africa which resulted in captain Virat Kohli and the team management facing criticism from former players and fans. The Mumbai batsman returned to the Playing XI for the final Test in Johannesburg and India won it by 63 runs to salvage pride. Now, there is more good news for him.
With India set to face South Africa in a six-ODI series from tomorrow (February 1), Kohli has given strong indications that Rahane will bat at number four. It is a complete turn around by the skipper after keeping him out of the ODI XI due to him being an opener.
Also read: Kohli says India's core players ready for World Cup 2019
Today (January 31), Kohli said, "We have explored a lot of options (for middle order). We don't have much time before the World Cup. We don't have many matches. We want to explore all options. I had said Ajinkya Rahane is in squad as third opener but that situation can change because he has batted for India at No. 4 in World Cup.
Also read: SA-India series schedule, squads, Live stream info
"The conditions here (South Africa) are such that throughout the innings you get to play fast bowling. He is a strong candidate for No. 4. We don't want one-dimensional players, depends on who's technique suits for the conditions in that country. All options are open. We will see which (player) fits us the best."
In October 2017, ahead of New Zealand ODIs at home, Kohli had said Rahane was in the squad as a reserve opener. He was dropped from the XI despite scoring four consecutive half centuries (as opener) against Australia. Rahane had partnered Rohit Sharma in Shikhar Dhawan's absence.
"He (Rahane) has definitely grabbed his opportunities as the third opener. As I mentioned, there was KL (Rahul) as well competing for the spot for a while, but Jinks (Rahane) has really performed well, stood up and taken his chances. That's how the dynamics of the team work; where there are four guys who play in a similar position, obviously one of them will have to miss out," Kohli had said.
"Even in the three, only two can play in the eleven. Again as I mentioned, I don't want to confuse him too much making him play in the middle-order. You need to find your game in ODI cricket. He's been very solid at the top order because of his technique and he likes playing there as well. It gives him the freedom to go after the bowlers. We don't want to confuse him. Whenever someone is not going through a good phase or there is an injury, he's there. He's pretty happy with his batting at the moment," he added.