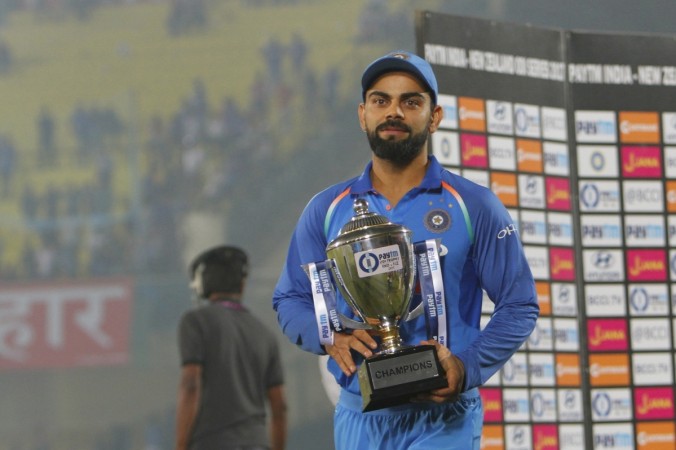 Indian captain Virat Kohli has eclipsed another Sachin Tendulkar record. This time it is in the International Cricket Council's (ICC) One Day International ranking table.
The 28-year-old struck his 32nd ODI hundred yesterday (October 29) against New Zealand at Kanpur's Green Park Stadium. His and Rohit Sharma's ton helped India post a mammoth total and later bowlers held their nerve to seal a tense six-run series-clinching win.
Kohli, with his latest three-figure mark (113), is back on top of the ICC ODI Rankings for batsmen. And he has climbed to the top with highest ever rating by an Indian batsman, beating Tendulkar's numbers.
"The 28-year-old Delhi batsman, who scored 263 runs in the series against New Zealand including knocks of 121 in the first ODI in Mumbai and 113 in the final ODI in Kanpur, has reached 889 points, which is the best ever by an India batsman. The previous highest points tally of 887 was managed by Sachin Tendulkar in 1998 and by Kohli earlier this year," ICC said today (October 30).
The Indian skipper hit two centuries in the three-match series against New Zealand. He won the Man-of-the-series award for his efforts. Recently, Kohli had lost the top spot to AB de Villiers of South Africa.
Rohit is the other Indian who is in the top 10 of the ODI batting rankings. The next best Indian is MS Dhoni at 11th position.
ICC ODI Player Rankings (as on 30 October, after the India-New Zealand series)
BATTING (top 20)
Rank (+/-) Player Team Points Avge Highest Rating
1 (+1) Virat Kohli Ind 889! 55.74 889 v NZ at Kanpur 2017
2 (-1) AB de Villiers SA 872 54.06 902 v NZ at Auckland 2015
3 ( - ) David Warner Aus 865 44.94 880 v Pak at Adelaide 2017
4 ( - ) Babar Azam Pak 846*! 58.60 846 v SL at Sharjah 2017
5 ( - ) Quinton de Kock SA 808 ! 45.85 808 v Ban at East London 2017
6 (-1) Joe Root Eng 802 50.00 808 v Win at Bristol 2017
7 ( - ) Rohit Sharma Ind 799 ! 44.33 799 v NZ at Kanpur 2017
8 (+2) Faf du Plessis SA 773 43.90 791 v SL at Cape Town 2017
9 ( - ) Hashim Amla SA 766 51.25 901 v Eng at Trent Bridge 2012
10 (-2) Kane Williamson NZ 760 46.31 798 v SA at Centurion 2015
11 (+1) MS Dhoni Ind 730 51.71 836 v Aus at Delhi 2009
12= (-1) Martin Guptill NZ 728 42.71 789 v SA at Hamilton 2017
(+1) Steve Smith Aus 728 43.23 752 v Pak at Sydney 2017
14 (+1) Ross Taylor NZ 725 44.27 743 v Zim at Harare 2015
15 (-1) Shikhar Dhawan Ind 708 43.97 794 v SA at Melbourne 2015
16 ( - ) Tamim Iqbal Ban 677 34.32 688 v Aus at The Oval 2017
17 ( - ) Aaron Finch Aus 674 36.56 743 v Eng at Melbourne 2015
18 (+1) Alex Hales Eng 660 37.89 705 v NZ at Cardiff 2017
19 (-1) Mushfiqur Rahim Ban 658 32.92 671 v Zim at Mirpur 2015
20 ( - ) Eoin Morgan Eng 650 38.16 690 v Aus at The Oval 2010