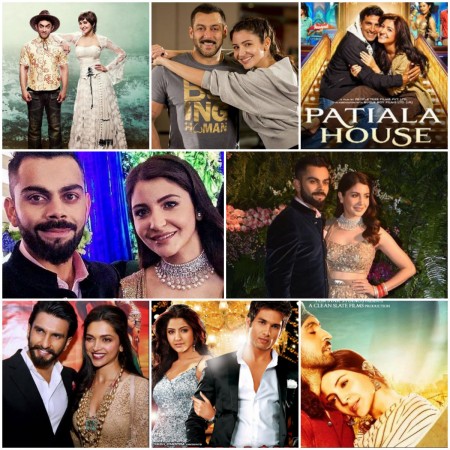 While Anushka Sharma and Virat Kohli enjoyed the night in Mumbai celebrating their marriage with the Indian cricket team and Bollywood under one roof. There were a few celebrities who we missed...
In Pics: Dhoni, Sachin, Aishwarya Rai, Yuvraj Singh at Anushka Sharma and Virat Kohli reception
First of all, Anushka Sharma's mentor Aditya Chopra and Rani Mukerjee were missing from the reception.
And now, let's talk about Anushka Sharma's co-stars first. PK Aamir Khan is shooting outdoors for Thugs of Hindostan, Diljit Dosanjh was not seen at the reception as well and Salman Khan was partying in Panvel as he celebrates his 52nd birthday today.
Deepika Padukone is holidaying in Vienna (secretly) as her picture went viral recently where she was seen hiding her face. And Ranveer Singh is in London. Well, we wonder if the two will catch up for New Years or not but till then, we missed having the DDD vibe last evening.
Akshay Kumar, who was seen with Anushka in Patiala House, is in South Africa with family for New Years. While we missed Kareena Kapoor and Saif Ali Khan (who are in Europe for holidays), Sara and Ibrahim were there to grace the event on their behalf.
Anushka's Badmash Company co-star Shahid Kapoor too seems to be in Delhi with family. Meanwhile, Alia Bhatt flew last night for her New Year's holiday.
Sonam Kapoor is in London with boyfriend Anand Ahuja and will be celebrating New Year's there, whereas her best friend Jacqueline Fernandez (who was extremely excited about Virat and Anushka's wedding at Lux Golden Awards 2017) is in the Middle East for holidays.
Celebrities including Shraddha Kapoor, Sushant Singh Rajput, Anil Kapoor, Parineeti Chopra, Sonakshi Sinha, Arjun Kapoor -- were missing from the event too.