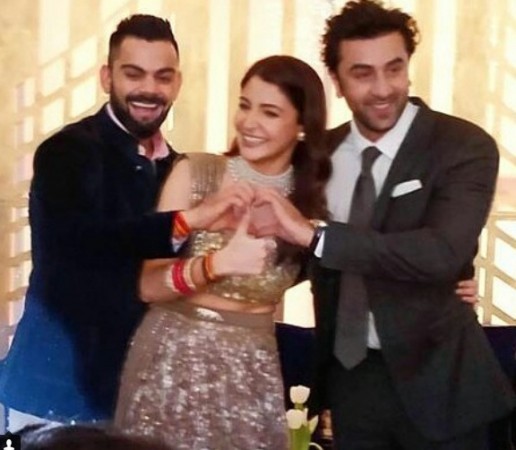 Anushka Sharma and Virat Kohli's second wedding reception is one of the glitteriest events, and it witnessed presence of all the big personalities from both Bollywood as well from the sports world.
In Pics: Dhoni, Sachin, Aishwarya Rai, Yuvraj Singh at Anushka Sharma and Virat Kohli reception
Among all the big stars, Ranbir Kapoor also attended the event looking dapper in a black suit and white shirt. The actor is known for his fun-filled side, and he flaunted the same at the gala event.
After being clicked by the shutterbugs, Ranir posed with Virat and Anushka in a picture that has gone viral now. The concerned photo shows the actor and Virat making a hand-heart, while Anushka gave a thumb up to the same.
Although this click appears to be one of the best moments from the event, fans recalled it as a Ae Dil Hai Mushkil moment. Ranbir and Anushka had appeared in ADHM where the former's character falls in love with the gorgeous diva who gets married to another guy.
This picture is truly much similar to the movie as Ranbir's character was seen attending his onscreen lady love's marriage in the film as well. This photo has gone viral as fans have been calling it as an "ADHM" moment.
While this was one of the best moments at Virat and Anushka's reception, this also made fans recall the beautiful on screen love story between Anushka and Virat in ADHM. The newly wed couple's second reception happened at St, Regis in Lower Parel began on Tuesday. It is reportedly the tallest hotel tower in India with as many as 395 guest rooms, including 27 suites and 39 residential suits.
After the private but grand wedding, they threw the first reception party in New Delhi on December 21 that was attended by PM Narendra Modi as well.
Truly, Virat and Anushka are doing everything possible to make their wedding a memorable one.
Virat and the gorgeous actress had dated each other for quite some time. They had always been open about their relationship, and the two had announced their marriage together on social media, a day after the private wedding.