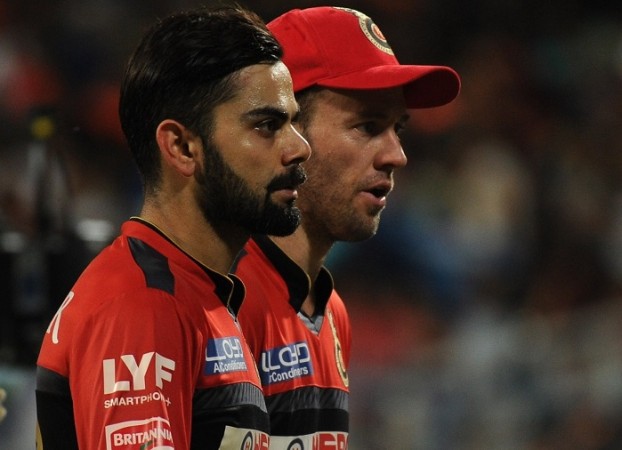 Among all the incredible cricketers in the world today, former England batsman Kevin Pietersen believes Virat Kohli and AB De Villiers are ''the only absolute superstars in international cricket''.
When one talks about the greatest batsman amongst the current crop of cricketers, the names of Kohli and De Villiers come up immediately. So Pietersen's choice would not come as a surprise to many, as they have scored runs all around the world under all conditions, which also makes them great ambassadors for the sport. Kohli has scored 7,306 runs (ODIs), 3,554 (48 Tests), while De Villiers has made more than 8,000 runs in both the formats combined.
Talking about the superstars in the game, Pietersen also includes Jos Buttler, who has been earning a good name with his wonderful skills with the willow. The Englishman feels there are not many superstar bowlers at present, but named Australia's Mitchell Starc and South Africa's Dale Steyn, who have both been wonderful players for their respective countries with the ball in their hand.
"I think Virat Kohli and AB De Villiers are the only absolute superstars in International cricket. Jos Buttler from England too. I can watch him bat and among the bowlers there are not many except Mitchell Starc from Austraila, Dale Steyn from South Africa — but no one else," Gulf News quoted Pietersen as saying.
During the past, there have been a number of players, who could be labelled as superstars, including Sachin Tendulkar, Kumar Sangakkara and Shane Warne. But after their retirement, world cricket has not found their replacement yet. And one never might, since they were the ultimate entertainers on the field with their stunning skills.
Pietersen believes the present batch of cricketers is brilliant, but not in the same league as that of the former greats.
"There are many very good players but there are not absolute stars. Cricket lost a lot of the stars like Shane Warne, Muttiah Muralitharan, Mahela Jayawardene, Kumar Sangakkara, Brett Lee, Freddy (Andrew Flintoff). International cricket have lost all these guys and it is sad because people like entertainers, entertainment and characters like them," Pietersen said.