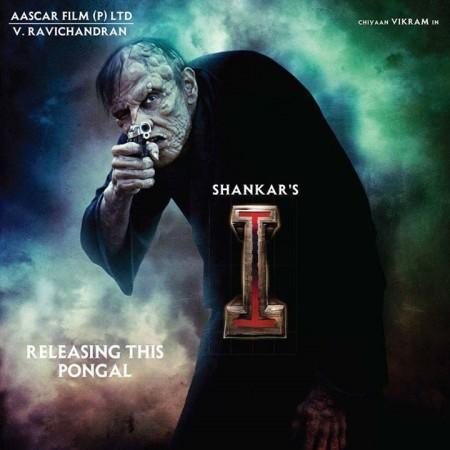 The theatrical trailer of the Hindi version of Vikram's 'I', which was released on YouTube on 21 December, has received very good response from the viewers, who have given it a thumbs up.
The trailer of "I" does not reveal much in terms of the story of the film, but it offers a look at various characters played by Vikram, Amy Jackson and others. As per the video, the movie has sound production values and its technical elements are on par with Hollywood standards. It shows that the film is going to be a visual treat.
The 2-minute trailer of "I" has been viewed by nearly 3.5 lakh people on YouTube. More than 2500 viewers gave the video thumbs up, while it got thumbs down from 133 people. It has also got 380 comments, most of which expressed positive opinion about the trailer.
Film goers are all praise for Vikram's dedication, Shankar's creation, AR Rahman's music, and the film's action choreography, brilliant cinematography and superb visual effects. Here are some unique comments taken from YouTube.
Vivek Anand
Tats called a TRAILER.. Wow amazing to see such an outstanding talent from everybody.. Sure this movie will be a hit in all languages. There were few good movies earlier in tamil but, it was not super hit in other languages due to language barrier....but this movie wil cross dat line becas of d way its been directed n also with d new generation crowd who appreciates d good work..... All d best
Kalai Arasan
This Movie seems to set high standards to make movies in near future. Editing, Camera work, Art Direction, Makeup, Costumes, Locations,VFX and More importantly Direction at its Best. A.R.Rahman is the LiveWire for the trailer, what an BGM man and finally the acting by Vikram, my goodness this guy seems to do anything for the character he plays. HATSOFFFF to the Crew. HOLLYWOOD we ar coming, Keep the awards READY ! ! ! ! ! !
Siddharth Sharma
The best trailer where had ever seen! COMPLETELY MAGNIFICENT! with splendid Background scores.! Superb. Chhaaa gaya yaar.!
Meby Prakash
cud have made dialogues and dubbing more proper.... So that it wont feel "Hindi Dubbed movie". Still good work.. All the best to 'I' team !!!!!!
Balaji R D
WOWW No one can do this much Physique change like CHIYAAN VIKRAM.. Dedication, Hardwork,COmmitment and Passion beyond Sky limit
Neha Kapoor
I am so amazed seeing this trailer. This is gonna be One Epic Movie of next year!
Ameer Ahmed
wow !!!!! Bollywood has got a new competitor . i am a huge Salman fan but I Think Vikram is more better then any Bollywood actor and he was awesome in Aparichit and looking forward to I a must watch movie.................
Shiva B
Wow .. Just simply superb, I hope it will break all indian cinima records, Feeling happy it is near to hollywood movies. All the very best Director SHANKAR,
Reegan Ronald
i wish this movie to become a noticeable hit in Bollywood as such kinds of efforts have been put on for this project by the entire team especially Vikram and Shankar....
RAM JEE
"I" will shatter all previous Indian cinema records n create new.. Unarguably a master piece from Vikram n Shankar..
Shahbaz Shaikh
woww!!!!!!!!! brillaint shankar is back again after robot ! dis man is definately something else thats y he is called james cameron of india who create some unqiue work in films sure i wil watch dis one
Phaneendra Boosala
Shankar and Vikram have earlier worked together to give a mega hit in the form the movie 'Aparichit'. Now it seems like they both have created a masterpiece on the silverscreen again!