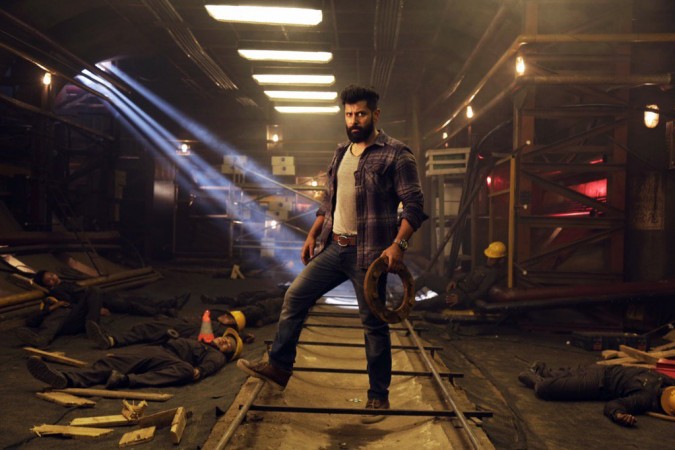 A still from Tamil movie "Iru Mugan" featuring the action packed look of actor Vikram has gone viral on social media within hours after it was leaked online.
The film unit is shooting an action sequence for "Iru Mugan" on a set in Chennai. This set is said to be heavily guarded and nobody, including actor Vikram and director Anand Shankar, are allowed to use mobile phones there. The unit is taking utmost care to guard the look of the hero, but a photo of Vikram in action mode, taken on the set, was leaked Tuesday night
The set resembles a tunnel and the action scene shot here is a continuation of the scene canned in a tunnel in Malaysia. "We had shot an action scene at a tunnel in Malaysia and this is a continuation of that scene. We had canned shots featuring the exterior of the tunnel there. Here, we have erected the interior of the tunnel, (sic)" The Times of India quoted stunt director Ravi Verma as saying.
Vikram is known for experimenting with his characters and looks, and the first look of "Iru Mugan" had generated a lot of curiosity around the film. Now, the leaked photo has impressed viewers and taken their expectations to a new high. It is being circulated fast on social media. Besides posting the photo, many shared their impression about it. Here are some of their comments on Twitter:
Kaushik LM ‏@Lmkmoviemaniac
Nice photography and production design .. #IruMugan . Action-packed, intense #ChiyaanVikram looking 'gethu'
Vishal Menon ‏@Vishal1Menon
#vikrams new look from #irumugan. So excited about this film. Loved #arimanambi
Vikram ‏@VikramFC
Awesome! Easily this should be the best Mass pic of #ChiyaanVikram in recent times.Vikram looks terrific!! #Irumugan
Praveen ‏@pravenbg
Absolute stunner! The dashing and ferocious #ChiyaanVikram from the tunnel set of #IruMugan. Mass @anandshank :)
Whatztrending ‏@whatzTrendin
#IruMugan mass pic of #Vikram. The action packed entertainer is being planned as Perunal special by @shibuthameens
#LM3ALLEM ツ ‏@IamMushtak
Chiyaan Vikram performed the stunts all by himself, without a body double, says @stuntraviverma #IruMugan
Suresh kenny ‏@sureshmylapore 34m34 minutes ago
Just a single still he attract us That's the power of our sir #IruMughan wil b a acting Tsunami of Chiyaan's career pinni pedal edhukuraru
Friday Cinemaa ‏@FridayCinemaa
#Irumugan #ChiyaanVikram The Man with beard !! Hotness overloaded
Kollywood In ‏@kollywoodin
#Chiyaan #Vikram 'ssuper look from #IruMugan tunnel set scene .. an action scene
Fan Art for the Exclusive #ChiyaanVikram pic in no time
Great Work by Thamizh Vanan #Irumugan @anandshank pic.twitter.com/sYoferRpdy

— Bleed CHIYAANism (@CHIYAANism) February 24, 2016