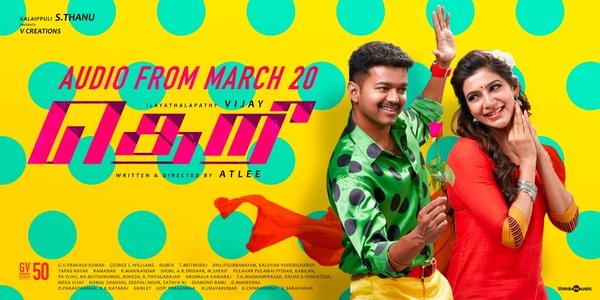 Vijay's "Theri" has seven songs, including the "Dub Theri Step." GV Prakash Kumar has composed music for the tracks of the Atlee Kumar-directed film, which have come out very well and impressed the audience.
Jithu Jilladi: Singers - Thenisai Thendral Deva and Balachandran; Lyricist - Rokesh
This track is about the corruption and the life of a policeman. It is a social-awareness song that praises the police force. It is a great blend of subtle rhyme scheme and trendy beats. The song has a steady tempo with some variations here and there.
En Jeevan: Singers - Hariharan, Saindhavi and Vaikom Vijayalakshmi; Lyricist - Na Muthukumar and R Thiyagarajan
This is a romantic duet with soulful music and Sanskrit slokas in the middle. This track, which has lilting tunes and soothing vocals, is sure to become a classic.
Eena Meena Teeka: Singers - Uthara Unni Krishnan, GV Prakash Kumar; Lyricists - Pa Vijay, Arunraja Kamaraj (Rap)
This is a quirky number dealing with the relationship between a man and his daughter. The song starts with a bang and turns adorable with the flow. This track would be more impressive when combined with the visuals.
Chella Kutti: Singers - Vijay, Neethi Mohan; Lyricist - Kabilan
This is a romantic duet, and a melodious dance number. This song is of mutual adulation between a couple. Its funky and foot-tapping beats and sweet lyrics will impress listeners at the first instance and it will be a favourite from the "Theri" album.
Thaimai: Singer - Bombay Jayashri; Lyricist - Pulavar Pulamaipithan
This track is a lullaby about motherhood. The song is high on emotions and a great blend of melodious instruments, Bombay Jayashri's soothing vocals and meaningful lyrics. GV Prakash Kumar's tunes leave a lasting impression.
Raangu: Singers - T Rajender, GV Prakash Kumar and Sonu Kakkar; Lyricist - Kabilan
This is fast-paced romantic duet that is also a good dance number. The fusion of sounds of tavil, trumpets, guitar and drums pumps up the energy of the song. The soft, confident and vigorous voices of the singers complement each other. This is going to be another favourite from the album for many.
Dub Theri Step: Singer and Lyricist - Arunraja Kamaraj
This is a loud song, which is a prologue that offers a sneak peek of what to expect from Theri. Arunraja's raw voice, fast-paced music and beats of the song will impress the audience. It will become trending song.