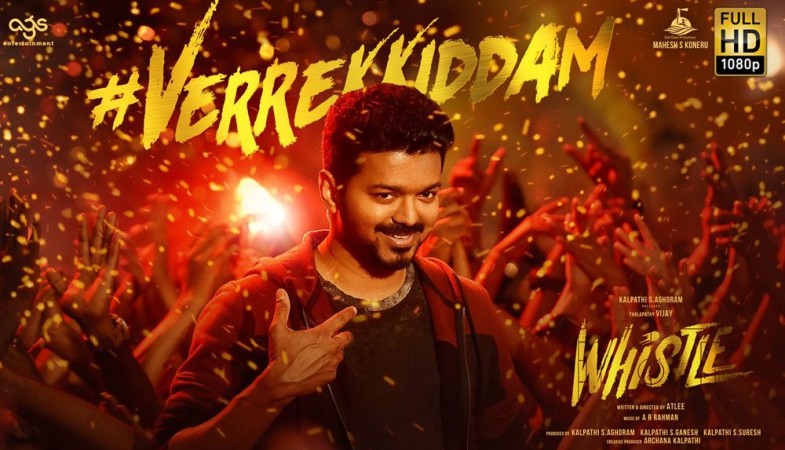 Theatres in Tamil Nadu are decking up for the release of Vijay's Bigil, which hits the screens this Friday, 25 October, ahead of Diwali festival. The advance booking has started across Tamil Nadu and there is an unprecedented hype for the flick which marks the third union of Thalapathy with director Atlee Kumar after Theri and Mersal.
Bigil is clashing with Karthi's Kaithi this weekend, but the Vijay-starrer is getting a lion's share of screens. Industry insiders say that the Atlee-directorial is expected to release in 500+600 screens in the state. The reservation for tickets for the first few days have commenced in major parts of Tamil Nadu that includes in Chennai, Madurai, Tirchy, Tirunelveli and Coimbatore.
Strangely, many theatres are selling tickets for the second and third days and have not started full-fledged booking for the first day. So far in all the centres where the reservations have commenced, the audience have given terrific response.
Notably, Vettri Cinemas sold a record 6,000 tickets in just 90 minutes online. "Terrific advance bookings for #Bigil in #Vettri Nearly 6000 tickets sold in jus 1.5 hrs Oct 26 & 27 almost sold out ... Now pressure onto 28th ... Bookings for Oct 25th (Release Day) starts on Tuesday ... [sic]" Rakesh Gothaman, the MD of the cinema halls, tweeted.
Ajith's Vivegam Pre-Release Sale Record to Be Shattered
According to Nikilesh Surya, who manages Rohini Silverscreens, there is a huge demand for tickets till its first Monday (28 October). "Terrific advance bookings for #Bigil All show upto Monday likely to full before first show starts. Likely to break #Vivegam pre-release ticket sale record @RohiniSilverScr Will update by friday . [sic] He wrote on Twitter.
Even Rakki Cinemas announced that it sold 6000+ tickets of the Vijay-starrer in an hour. "Earth shattering advance booking. 6000 tickets in one hour. First of this kind on the history of rakkicinemas. Thank you very much pulliango. [sic]" the theatre claims on Twitter.
Cashing in on the hype, multiplexes are dedicating majority of its screens for Bigil. Leading cinema hall Mayajaal is having 50+ shows on the first day and tickets for all the shows are selling like hotcakes.
Anand Cinemas in Kanyakumari too is floored by the fans' response for the advance booking of tickets for Bigil, which has Nayanthara in the female lead. "Marthandam. Despite rain people are comming to book tickets.#BigilDiwali. [sic]" it posted on Twitter.
However, there are a couple of theatres which are unwilling to screens Bigil as it could not strike deal with the distributors, who are pushing for higher ticket price.
Critic and filmmaker Dhananjayan Govind expressed his concern over his on Twitter and wrote, "Audience need the most expected #Bigil in every theatre possible at "reasonable ticket price" so that they enjoy this Diwali with #Thalapathy film. Not fair Distributors who bought the film missing out important theatres who're not agreeing to their high ticket price demands✍️ [sic]"