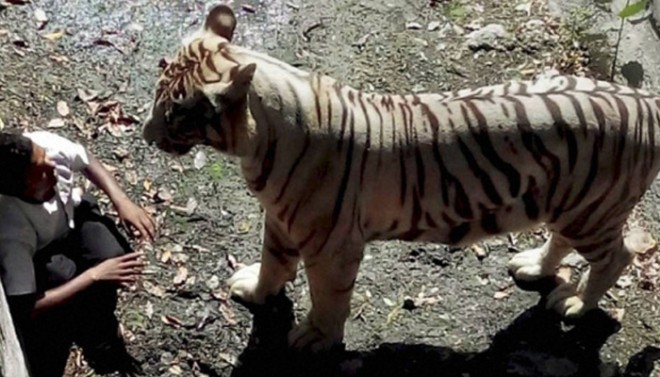 Watch video of another 'man in tiger enclosure', but this one has a twist.
A day after the hair-raising incident wherein a fully grown white tiger killed a youth in his enclosure in the Delhi Zoo, the seven-year-old wild animal, named Vijay, has become a star attraction at the zoo, after videos of the incident went viral.
The footfall at the zoo doubled, with almost 3,000 visitors coming in on Wednesday, Hindustan Times reported.
The 200kg-tiger mauled a 20-year-old youth to death on Tuesday after the latter fell into his enclosure.
The tiger has been under observation since Tuesday, to check whether he faced any stress following the incident.
The white tiger was born in the zoo in 2007, and the zoo curator said he was behaving normally now and ate his normal diet of 10kg buffalo meat at 4.30pm on Tuesday and Wednesday, as reported by Press Trust of India.
Horrifying videos of the incident have emerged over the last two days, where the tiger is seen bounding towards the youth who fell into the enclosure, and after several minutes of observing him, the animal finally attacked him fatally, grabbing him by his neck and dragging him around the enclosure.
The 20-year-old youth was reportedly 'mentally disturbed', and was undergoing treatment for the last four years according to reports citing his parents.
Teams from the ministry of environment and forests (MoEF) and Central Zoo Authority are reviewing the safety measures for visitors at the facility and will submit a report to top MoEF and Central Zoo Authority officials.
A RAW VIDEO of the gruesome incident has been uploaded online. Viewer discretion is advised as the video contains disturbing, graphic visuals.