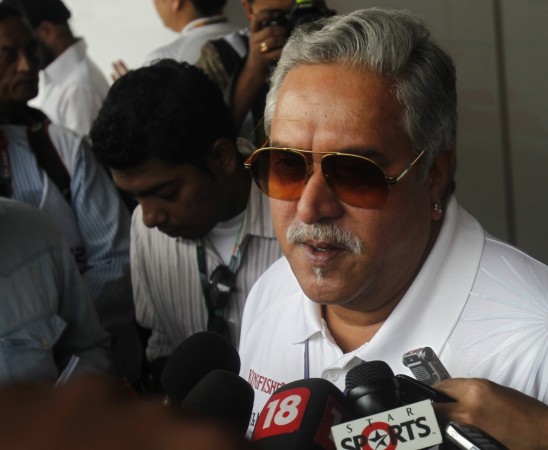 UB Group Chief Vijay Mallya announced his retirement from the chairmanship of Sanofi India Limited (SIL), a pharmaceutical company, Wednesday. He said he would not seek re-election as a director at the company's annual general meeting.
Mallya took over as the director of SIL in December 1973. The drug company was then called Hoechst Pharmaceuticals Ltd and he was appointed as the chairman of the board in 1983. He ended his 43-year-old tenure with the SIL, and explained that he intended to spend more time with his family in England, the Press Trust of India reported.
In a letter addressed to the SIL's Board of Directors, Mallya said: "Having been a director of your company for over 42 years and Chairman of the board for over 32 years, I have decided it is time for me to retire without resorting to the 'first-in, last out formula,'" according to the PTI.
"As you are aware, I celebrated my 60th birthday and I am spending more time in England closer to my children, it is also the company's Diamond jubilee which marks two important milestones," he added.
Mallya also said he felt privileged to be a part of the company, which started as Hoechst Pharmaceuticals and to have participated in its phenomenal growth and prosperity over such an extraordinarily long period of time, according to the SIL's corporate filing in the Bombay Stock Exchange (BSE).
"Today, Sanofi India Limited is not only financially strong but with an impeccable track record. It is gratifying to me that the Company continues to serve needy patients in India with world-class medication whilst ensuring consistent returns to all stakeholders," Mallya added.
Meanwhile, SIL has accepted Mallya's resignation. "The Board of Directors while accepting Dr. Mallya's decision, placed on record its deep appreciation of his exceptional service and leadership, firstly as a Director and subsequently as Chairman of the Board for over four decades," Shailesh Ayengar, managing director, SIL, said in the filing.
SIL said its Board of Directors has recommended to the shareholders that a resolution be passed for the election of two independent directors to the Board, Aditya Narayan and Usha Thorat, for a term of five years from April 30,2016.
The SIL Board indicated Aditya would be the next Chairman of SIL, should he be elected as the independent director at the annual general meeting.
Aditya Narayan, 64, has experience in the industry for over 40 years. He served ICI Limited, now Akzo Nobel India Limited, for about 30 years across diverse functions and businesses. He was its managing director during 1996-2003 and then its non executive chairman from 2003 to 2010. He served as president and CEO of BHP Billiton India from 2005 to 2009.
A Masters in Economics from the Delhi School of Economics, Usha Thorat, 66 joined the Reserve Bank of India (RBI) in 1972. She became the deputy governor of RBI in 2005 and was also the director, Advanced Financial Research and Learning till 2014.
SIL's shares on the BSE traded at Rs 4154 on the BSE at 9.31 a.m, up by Rs 14 or 0.32 percent from its previous closure.
Meanwhile, Mallya, who was paid $75 million by London-based Diageo to exit Diageo-owned United Spirits, owes banks Rs 9,000 crore in loans. On March 17, 2016, he also stepped down from his post of the director of Royal Challengers Sports Private Limited, which owns the RCB franchise in the IPL.