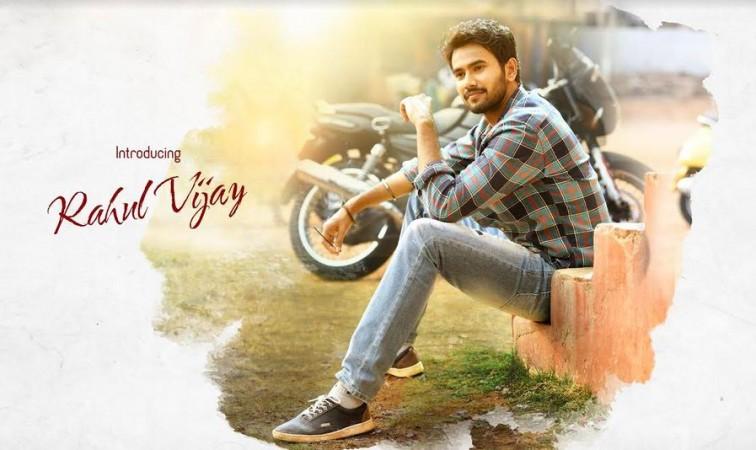 Stunt master Vijay is gearing up to introduce his son Rahul Vijay and daughter Divya Vijay to the film industry with the movie Ee Maaya Peremito, which is directed by Ramu Koppula.
Ee Maaya Peremito is a rom-com entertainer, which marks the debut of Rahul Vijay and Divya as an actor and producer, respectively in the Telugu film industry. The team announced the title of the film on Tuesday at a press conference. Besides releasing its first look, the makers also premiered a few scenes and songs from the film on this occasion.
Rahul is all excited to make his acting debut as hero and he has pinned a lot of hopes on Ee Maaya Peremito. Talking to media, he said, "Ramu garu narrated a good story. Love is the main element in the film while the rest of the themes like comedy and entertainment will be a support to the main skeleton."
Fight master Vijay said, "With this film, I am very happy to not just be introducing my son as a hero but also my daughter Divya joins the fray as a producer. I am glad that I am bringing them to the Industry that has given me so much love and respect. Director Ramu garu has done a great job with the film. I hope both my children receive the same adulation that I received over the years."
Director Ramu said, "We have finished shooting the film and are presently in post-production. Rahul is a superb performer. Divya compromised at no level. Music and background score by Mani Sarma, Cinematography by Shyam K. Naidu and editing by Navin Nuli will be a huge plus. The film will prove to be one that will appeal to all kinds of audiences."
"The film has been completed as planned. Rahul and actress Kavya Thapar will look perfect together on screen. We are presently in pre-production and are keen to bring the film to the audience at the earliest. We will be releasing the first look soon. We hope everyone encourages our attempt," Divya said.
Vijay has choreographed action scenes in Ee Maaya Peremito, which has Mani Sharma's music, Sam K Naidu's cinematography, Naveen Nooli's editing, Chinna's art diection and Srimani's lyrics. Murali Sharma, Rajendra Prasad, Rallapalli, Eswari Rao, Pavitra Lokesh, Satyam Rajesh, Josh Ravi and Kadambari Kiran are seen the supporting roles of the movie.