After hitting headlines for all right reasons, Vijay Awards 2015, which was held on Saturday (25 April), is now in the news for controversial reasons. The buzz says that some of the celebs including Ilayaraaja and Sivakarthikeyan left the venue with disappointment.
Click Here to See Vijay Awards Photos and Complete Winners List
An article published on Sify throws light on the negative side of Vijay Awards. The article claims that Sivakarthikeyan was treated like a son by the channel all these years and accuses the channel of using him to boost its TRPs on earlier editions of the awards ceremony.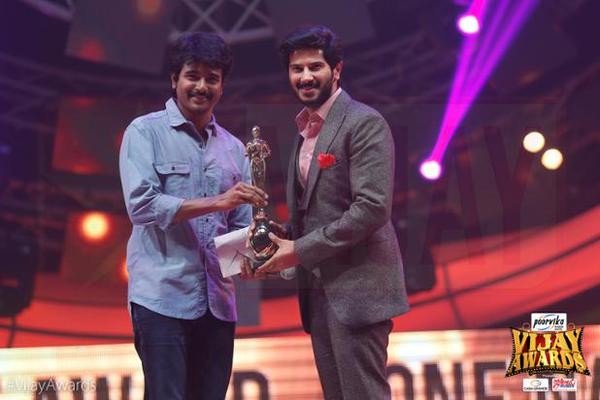 But this year it cannot repeat the same as the actor was reportedly unhappy with the channel and made a speech that projects Vijay TV in a poor light. "This function will go on till early morning 2 a.m. but they won't even provide us water. From next year, everyone please bring eatables like Tomato rice and Tamarind rice," he reportedly said.
As a tradition, Sivakarthikeyan used to be present till the events end but this time he was not seen after honoring Dulqueer Salmaan with the Best Debut Actor Award. We have to also note that the first look of his forthcoming "Rajini Murugan" was initially planned to release at the awards ceremony but later the plan went for a change and it was released on the same day at 6 pm on Twitter.
Adding to that Music Maestro Ilayaraaja, who was supposed to be honored with Chevalier Sivaji Ganesan Aaward for Excellence in Indian Cinema this year, too was unhappy, adds the report. It is said that he had agreed to attend the event and told the channel that he could be only available for an hour. But the channel could not honour him when he was around as he was not invited on stage. As a result, he left the place without receiving the award.
If these two instances are not enough, the report also highlight an incident where KS Ravikumar reportedly mocking the host.
However, controversies are part of events and this is not something new. Bollywood and Hollywood industries are no exception to it. Indeed, it is a part and parcel of the events.