The wait is over. The 9th edition of annual Vijay Awards is now being held at SDAT Indoor Stadium (Jawaharlal Nehru Indoor Stadium), Chennai, on Saturday, 25 April.
Click here to See Only the Photos
Just in: Vijay Awards Controversy: Why Illayaraja and Sivakarthikeyan Left the Function Midway?
The event is attended by who's who of the industry. Below, we bring you the live updates of Vijay Awards 2015 along with the regular updates of the winners list and photos.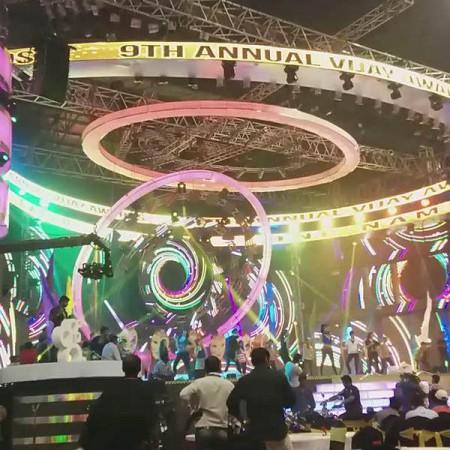 Vijay Awards Categories this Year: 38 Awards in Best and 5 Awards in Favourite Sub Categories:
Sponsors: Reliance Mobile, Univercell and Close Up.
Jury: K Bhagyaraj, Yugi Sethu, KV Anand, R Balki, and Nadhiya Moidu.
1.45 AM: Favourite Hero Award goes to Rajinikanth.
1.35 AM: Favourite Song Award goes to 'Amma Amma' from 'VIP'
1.30 AM:Best Debut director Award goes to Director Ram for 'Mundasupatti'
1.20 AM: Best Comedian goes to Thambi Ramaiah for 'Kathai Thiraikathai Vasanam Iyakkam'.
1.10 AM: Best Find of the year: Director Raju Murugan for 'Cuckoo'
12.55 AM: Dhanush Bags Best Actor Award.
12.33 AM: Anirudh bags Best Music Director Award for third consecutive time.
12.25 AM: 'Madras' Gets Special Jury Award.
12.15 AM: Best Film Award goes to 'Velai Illa Pattathari'

12.08 AM: Favourite Film Award goes to the movie Kaththi

11.55 PM: K S Ravikumar receives the Special Jury Award!

11.50 PM: Favourite Director Award goes to A R Murugadoss for Kaththi

11.45 PM: Best Crew Award goes to Sathuranga Vettai team!

11.40 PM: Best Background Score Award goes to Santhosh Narayanan for movie Jigarthanda!
11.35 PM: Hansika Motwani wins Favourite Heroine Award.
11.22 PM: Amala Paul bags Best Actress Award for 'Velaiilla Pathaari.
11.10 PM: Best Playback Singer Male goes to Pradeep Kumar for Aagayam Theepiditha
11.00 PM: Best Cinematographer goes to Gavemic U Ary for 'Jigarthanda'
10.15 PM: Best Director goes to @karthiksubbaraj for 'Jigarthanda'.
10.30 PM: Best Dialogue Writer goes to @rparthiepan for 'Kadhai Irukku'.
10.00 PM: Prabhu Deva comes out with entertaining performance.

9.35 PM: AVM Saravanan gets an Award for his contribution towards Tamil Films and it is presented by Kamal Haasan. [Note: Find Latest Photos Below]
9.25 PM: Best Screen Writer Award goes to Vijay Milton.
9.15 PM: Seetha gets the Award for Best Supporting Actor Female for 'Goli Soda'.
9.05 PM: Maalavika Nair gets Best Debut actor Female Award for 'Cukoo'.
8.55 PM: Anbu Kalai Arasan gets Best Supporting Actor for 'Madras'
8.45 PM: Best Lyricist Award goes to Kabilan for Aathangarai song in Yaan.
8.20 PM: Best Debut Female Actor award goes to Malavika Nair for 'Cuckoo'.
8.00 PM: Best Stunt Director Award goes to Sundar for 'Goli Soda'
7.55 PM: Sabu Cyril bags Best Art Director Award for 'Lingaa'.
7.45 PM: Master Shobi gets Best Choreographer Award for 'Jeeva'.
7.30 PM: Best Costume Designer Award goes to Perumal and Niranjani Agathiyan for 'Kaaviya Thalaivan'.
7.25: PM: Vikraman, Roopa Manjari, Ramki couple, director Balki,Parthepan and Myskin have arrived and find their pictures below.
7.15 PM: The Show Begins with a Bang.
7.05 PM: Bollywood superstar Shahrukh Khan had graced last two editions of Vijay Awards. Audience will miss his presence this time. [Note: Keep Refreshning the page to see latest updates and photos]
7.00 PM: Vijay Awards are not being aired live on TV or online. It will be aired next month ont he channel.
6.55 PM: Nadhiya, Poornima Bhagyaraj with her husband, Unnikrishnan couple and many others are spoted.
6.50 PM: Celebrities are coming one after the other. [Note: Find Latest Photos Below]
6.42 PM: Fans have gathered in huge number outside the venue.
6.30 PM: Stage Set for the 9th edition of the Vijay Awards: The atmosphere looks electrifying.
#VaiRajaVai team at #VijayAwards @Gautham_Karthik @ash_r_dhanush @PriyaAnand @actorsathish @thisisysr #Gayathri pic.twitter.com/kjc2tpF6z2

— Kollywood Cinema (@KollywudCinema) April 25, 2015
#VIP Dhanush is in now ! #Poorvika #VijayAwards http://t.co/kTLEupxwgc

— Vijay Television (@vijaytelevision) April 25, 2015
Karthik Subburaj bags the Best director Award ! http://t.co/t176wqJxtf — Vijay Television (@vijaytelevision) April 25, 2015
.@Siva_Kartikeyan giving award to @dulQuer for #VMP #VijayAwards @directormbalaji pic.twitter.com/27xcSes944

— Only Kollywood (@OnlyKollywood) April 25, 2015
#KamalHaasan and @shrutihaasan groove together on stage for Rum Bam Bam song. #VijayAwards pic.twitter.com/3Up7kwqofG

— Only Kollywood (@OnlyKollywood) April 25, 2015
.@Siva_Kartikeyan with @PDdancing at #VijayAwards pic.twitter.com/5cA76Agcd0 — Only Kollywood (@OnlyKollywood) April 25, 2015
Cutie Baby Sara gets the Award for Best Child Artist :) #Poorvika #VijayAwards http://t.co/J5eL2ZRrvF

— Vijay Television (@vijaytelevision) April 25, 2015
Sruthi Hasan @ #VijayAwards | #Poorvika http://t.co/vsK5DtQiaj — Vijay Television (@vijaytelevision) April 25, 2015
#Victor @arunvijayno1 at #VijayAwards pic.twitter.com/l7u71bOCyS

— Only Kollywood (@OnlyKollywood) April 25, 2015
.@iamAmyJackson, @actorsathish and @anirudhofficial at #VijayAwards pic.twitter.com/NYLD22BDqz — Only Kollywood (@OnlyKollywood) April 25, 2015
#KamalHaasan presenting the award to AVM Saravanan for Best Contribution to Tamil Cinema #VijayAwards pic.twitter.com/uWf7mm8ygp

— Only Kollywood (@OnlyKollywood) April 25, 2015
.@vijaymilton getting award from @iam_SJSuryah at #VijayAwards pic.twitter.com/aowR8Lk1dN

— Only Kollywood (@OnlyKollywood) April 25, 2015
A Tremendous Dance by Prabhu Deva :) #Poorvika #vijayAwards http://t.co/9ni3l5W5YQ

— Vijay Television (@vijaytelevision) April 25, 2015
Cute Srushti Dange!!. #Selfie #Poorvika #VijayAwards http://t.co/9AW6NXDImd — Vijay Television (@vijaytelevision) April 25, 2015
Undaunted Charmer!! Gautham Karthik #Selfie #Poorvika #VijayAwards http://t.co/necNUIKWUg

— Vijay Television (@vijaytelevision) April 25, 2015
Handsome Ashok Selvan!! #Selfie #Poorvika #VijayAwards http://t.co/sSuRGLe98A — Vijay Television (@vijaytelevision) April 25, 2015
.@Siva_Kartikeyan at #VijayAwards pic.twitter.com/3KEgv7y0co

— Only Kollywood (@OnlyKollywood) April 25, 2015
.@iamAmyJackson and @ash_r_dhanush at #VijayAwards pic.twitter.com/j7QAQrIpWh — Only Kollywood (@OnlyKollywood) April 25, 2015
.@shrutihaasan, @Gautham_Karthik, @srushtiDange at #VijayAwards pic.twitter.com/QaoKveXXEw

— Only Kollywood (@OnlyKollywood) April 25, 2015
Breath-taking performance!!! #Poorvika #vijayAwards http://t.co/5qc1dMVhgU

— Vijay Television (@vijaytelevision) April 25, 2015
.@Siva_Kartikeyan at #VijayAwards pic.twitter.com/TAYGDnJZqq

— Only Kollywood (@OnlyKollywood) April 25, 2015
.@dirlingusamy at #VijayAwards pic.twitter.com/I1uZLZ6D7l — Only Kollywood (@OnlyKollywood) April 25, 2015
.@menongautham and #KSRavikumar at #VijayAwards pic.twitter.com/f10qSYvRHf

— Only Kollywood (@OnlyKollywood) April 25, 2015
#KamalHaasan at #VijayAwards pic.twitter.com/ebFmTIMv5p — Only Kollywood (@OnlyKollywood) April 25, 2015
Gorgeous Simran!! #Selfie #Poorvika #VijayAwards http://t.co/jsYwnyArOU

— Vijay Television (@vijaytelevision) April 25, 2015
Coffee with kums!! Siddharth Vipin #Selfie #Poorvika #VijayAwards http://t.co/O4TYaDdK6T — Vijay Television (@vijaytelevision) April 25, 2015
.@actorsathish at #VijayAwards pic.twitter.com/kunsCZI1ZJ

— Only Kollywood (@OnlyKollywood) April 25, 2015
Dazzling @ihansika at #VijayAwards pic.twitter.com/zus7Zo0pHh

— Only Kollywood (@OnlyKollywood) April 25, 2015
#Aadhi is here. @dulQuer at #VijayAwards pic.twitter.com/meznNwBQ3Y — Only Kollywood (@OnlyKollywood) April 25, 2015
.@iam_SJSuryah at #VijayAwards pic.twitter.com/mzfE7h79wJ

— Only Kollywood (@OnlyKollywood) April 25, 2015
Look who's here. #VijayAwards pic.twitter.com/MJDnOlLGjJ — Only Kollywood (@OnlyKollywood) April 25, 2015
The beautiful Sara at #VijayAwards pic.twitter.com/EW7V7Dn7CE

— Only Kollywood (@OnlyKollywood) April 25, 2015
The Winner of the Best Production Manager Award goes to Sabu Cyril ! http://t.co/2AGUnvCiKN

— Vijay Television (@vijaytelevision) April 25, 2015
All of a sudden there is a roar.. Here comes Our Ever Charming DD :) #Poorvika #vijayAwards http://t.co/Fv4ySazBrZ — Vijay Television (@vijaytelevision) April 25, 2015
The ravishing Pooja Kumar on stage! #Poorvika #vijayAwards http://t.co/I9Jbdevmnz

— Vijay Television (@vijaytelevision) April 25, 2015
Gorgeous Janani Iyer #Selfie #Poorvika #VijayAwards http://t.co/KpxF19TJfr — Vijay Television (@vijaytelevision) April 25, 2015
Hip & Hop. Its Adhi #Selfie #Poorvika #VijayAwards http://t.co/ijEillCiP8

— Vijay Television (@vijaytelevision) April 25, 2015
Stunning Dancer Gayathiri #Selfie #Poorvika #VijayAwards thttp://ow.ly/i/awDyb — Vijay Television (@vijaytelevision) April 25, 2015
Gayathiri along with Keerthi at #Poorvika #VijayAwards http://t.co/qbubi7L2FT

— Vijay Television (@vijaytelevision) April 25, 2015
#LakshmiMenon at #VijayAwards pic.twitter.com/diQHnn7Rsv

— Only Kollywood (@OnlyKollywood) April 25, 2015
The host. #Gopinath at #VijayAwards pic.twitter.com/ABSweKWsmP — Only Kollywood (@OnlyKollywood) April 25, 2015
#UmaRiyaz at #VijayAwards pic.twitter.com/qEXOLLJcbv

— Only Kollywood (@OnlyKollywood) April 25, 2015
Madra's Anbu, Kalai joining us at #Poorvika #VijayAwards http://t.co/IajF1g7E74

— Vijay Television (@vijaytelevision) April 25, 2015
Madras Ritwika joining us at #Poorvika #VijayAwards http://t.co/VgreHVW9jv — Vijay Television (@vijaytelevision) April 25, 2015
Director Mysskin at #Poorvika #VijayAwards http://t.co/teZMn5FIgG

— Vijay Television (@vijaytelevision) April 25, 2015
Director Vikraman at #Poorvika #VijayAward http://t.co/icceFHvluW

— Vijay Television (@vijaytelevision) April 25, 2015
Dazzling Rupa Manjari at #Poorvika #VijayAwards http://t.co/yZpYhrrdOH — Vijay Television (@vijaytelevision) April 25, 2015
Mr & Mrs. Ramki at #Poorvika #VijayAwards http://t.co/8PmLU5FPFv

— Vijay Television (@vijaytelevision) April 25, 2015
Our Fourth Jury Balki at #Poorvika #VijayAwards http://t.co/qEpuUWlPv8 — Vijay Television (@vijaytelevision) April 25, 2015
Its Parthiepan joining us at #Poorvika #VijayAwards http://t.co/6ryOD8vCpi

— Vijay Television (@vijaytelevision) April 25, 2015
#Sunaina #VijayAwards #VijayAwardsLIVE pic.twitter.com/0PcB1EDKNT — Heytamilcinema (@Heytamilcinema) April 25, 2015
#Mumtaz at #VijayAwards pic.twitter.com/SN4qNfkW23

— Only Kollywood (@OnlyKollywood) April 25, 2015
Iniya with us at #Poorvika #VijayAwards http://t.co/hBrCZharWJ

— Vijay Television (@vijaytelevision) April 25, 2015
Ever Gorgeous #Nadhiya Mam #VijayAwards #VijayAwardsLIVE pic.twitter.com/n3HhgQwvsf

— Heytamilcinema (@Heytamilcinema) April 25, 2015
Our charming third jury Yugi Sethu has arrived #Poorvika #VijayAwards http://t.co/BKdONhz6HJ — Vijay Television (@vijaytelevision) April 25, 2015
Our dazzling and amazing jury #Nadhiya at #Poorvika #VijayAwards http://t.co/pUXJF1ifn9

— Vijay Television (@vijaytelevision) April 25, 2015
#Azhagu Uthara along with Mr & Mrs. Unnikrishan at #Poorvika #VijayAwards http://t.co/MsatfYBDD4

— Vijay Television (@vijaytelevision) April 25, 2015
Here is our Jury Bhagyaraj along with his wife at #VijayAwards #Poorvika http://t.co/UlqcaI0NFJ

— Vijay Television (@vijaytelevision) April 25, 2015
#VijayAwards Woww therii mass Thalapathyy pic.twitter.com/pt1ReoQID5

— Thalapathy Senthil (@VjBloodSenthil) April 25, 2015
#VijayAwards #KCLive @vijaytelevision @Sriram_vijaytv @DhivyaDharshini @makapa_anand @ramyavj Special Pictures 05 pic.twitter.com/OiiJgGT9AA

— Kollywood Cinema (@KollywudCinema) April 25, 2015
Here is Grand #VijayAwards Stage .. Waiting for thalivaaar @dhanushkraja http://t.co/1P581qclPc — Maari Vasanth (@rvasanth92) April 25, 2015
Note: Find Vijay Awards 2014 winners' list below the photos:
RT @DoneChannel1: And The stage of pride is all set #VijayAwards @vijaytelevision pic.twitter.com/aYSTev5igM

— Vijay Television (@vijaytelevision) April 25, 2015
few more hours.. super excited..! #Poorvika #VijayAwards https://t.co/fcUwNwky94

Any guesses ? :) #VijayAwards #VijayAwardsLIVE pic.twitter.com/KboyuwC8Bp

— Heytamilcinema (@Heytamilcinema) April 25, 2015

Extra security from #Poorvika more number of people's front of gate... #VijayAwards @vijaytelevision pic.twitter.com/peiGa4NkCm — Santhosh kumar.S (@santhoshobject) April 25, 2015

— Vijay Television (@vijaytelevision) April 25, 2015
At the Rehearsals! #Poorvika #VijayAwards pic.twitter.com/c1z27zJWs2 — Vijay Television (@vijaytelevision) April 25, 2015
My friend @ #VijayAwards with white shirt #mani :) he say that guessing all thalapathy will come sure pic.twitter.com/XbsQOS1X3p

— Thalapathy Senthil (@VjBloodSenthil) April 25, 2015
Best Actor: Dhanush for VIP
Best Actress: Amala Paul for VIP
Best Art Director: Sabu Cyril for 'Lingaa'
Chevalier Sivaji Ganesan Award for Excellence in Indian Cinema:
Vijay Award for Best Choreographer: Master Shobi for Jeeva
Vijay Award for Best Cinematographer: Gavemic U Ary for Jigarthanda
Best Comedian: Thambi Ramaiah for Kathai Thiraikathai Vasanam Iyakkam
Best Costume Designer: Perumal and Niranjani Agathiyan for Kaaviya Thalaivan
Best Crew: Sathuranga Vettai
Best Debut Actress: Malavika Nair for Cuckoo
Best Story, Screenplay Writer: Vijay Milton for Goli Soda
Best Director: Karthik Subbaraj for Jigarthanda
Best Debut Actor: Dulquer Salmaan for Vaayai Moodi Pesavum
Best Editor: Vivek Harshan for Jigarthanda
Entertainer of the Year:
Favourite Director: AR Murugadoss for Kaththi
Favourite Film: Kaththi
Favourite Hero: Rajinikanth for Lingaa
Favourite Heroine: Hansika Motwani for Maan Karate
Favourite Song: Amma Amma from VIP
Best Female Playback Singer: Uthara Unnikrishnan for Pisaasu
Best Film: VIP
Best Find of the Year: Raja Murugan for Cuckoo
Vijay Award for Icon of the Year:
Best Lyricist: Kabilan for Aathangarai track in Yaan
Best Make Up Artistes:
Best Male Playback Singer: Pradeep Kumar for Madras.
Best Music Director: Anirudh for VIP
Vijay Special Jury Award: Madras
Best Stunt Director: Sundar for Goli Soda
Vijay Award for Contribution to Tamil Cinema: AVM Saravanan
Best Supporting Actor: Kalaiyarasan for Madras
Best Supporting Actress: Seetha for Goli Soda
Best Villain: Bobby Simha for Jigarthanda
Best Child Actor Award: Sarah for Saivam