The Facebook account of actress Vidyullekha Raman has been hacked. The shocking part of the story is that the page now has another actress' name.
Vidyullekha was handling the page and her account was verified by the Facebook page with a blue badge.
"Something bizarre, strange & horrible has happened. My Facebook page Vidyu Raman has been HACKED, HIJACKED & STOLEN with all my 450K followers and made into the page of some actress. No one but me managed my page. I don't understand how this happened but the culprit will b caught. [sic]" Vidyullekha Raman bewildered on Twitter.
Her father Mohan Raman requested fans to rewet her post, thereby drawing Facebook's attention. "Happening to a verified, self managed page.... How is that possible @facebook?? Request people to retweet so that Facebook restores the original. So many years of posting snaps and interaction all gone Kaput. @Dhananjayang @sri50 @sridevisreedhar WATCH OUT PEOPLE.....[sic]" he wrote on Twitter.
Hackers often target actors' social media pages and troll them. Singer Suchithra Karthik's account was recently allegedly hacked and the hacker even posted controversial comments about other celebrities.
In the case of Vidyullekha Raman, the culprit has converted her page to another actress and has not posted any objectionable content.
Vidyullekha Raman is a multilingual actress, who made her acting debut with Gautham Menon's Neethaane En Ponvasantham. Since then, she has been part of over 35 movies in different languages.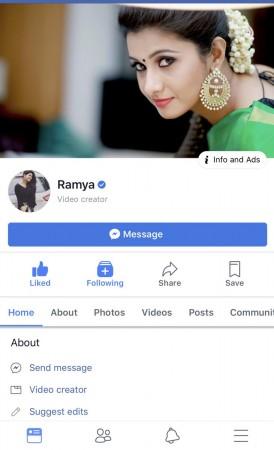 She has already worked with popular actors such as Vijay, Ajith, Suriya, Ram Charan Teja and Dhanush among many others.