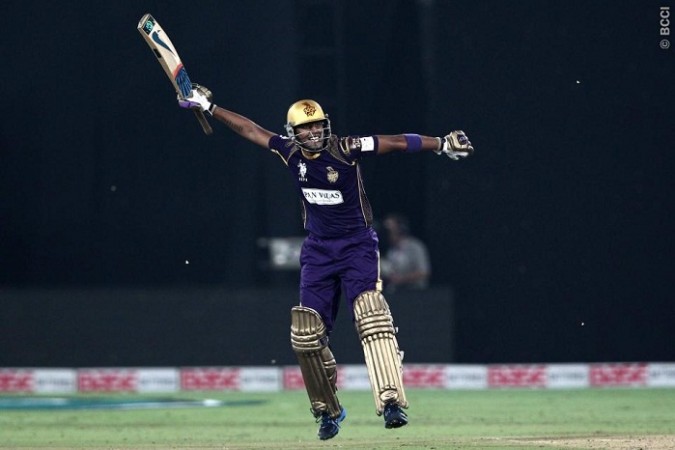 The Kolkata Knight Riders booked their place in the semifinals of the Champions League T20 with a tense victory over the Perth Scorchers in Hyderabad.
KKR are on a ridiculous run at the moment, having won 12 straight games with several players standing up when needed.
It was Suryakumar Yadav's turn this time around, as the batsman played a crucial 19-ball 41 to help KKR chase down 152 in the final over.
"I feel this has been the most high pressure game I have played till date," Yadav told CLT20's official website. "I have never played the role of a finisher till date for KKR. I have been trying for quite some time now to finish games for KKR but I was never able to play that role successfully.
"I tried finishing games in the IPL as well but I was making mistakes. Even in the last game against Lahore Lions, though I had a very small role to play in that run-chase, that innings gave me the confidence that I can play my role to good effect.
"I carried that confidence into this game which I guess helped us in winning the game."
KKR are now the first team to assure themselves of a place in the semifinals, and Gautam Gambhir's men, the IPL 2014 champions, do look like the favourites at the moment to go all the way and lift their first CLT20 title, especially if they keep getting the opportunity to chase.
The KKR bowlers have also done exceedingly well so far in this CLT20 2014, with Sunil Narine and exciting youngster Kuldeep Yadav, who was also adjudged the man of the match for figures of 4-0-24-3, combining to take seven Perth Scorchers wickets.
The Scorchers posted a total of 151 for seven in their 20 overs, largely thanks to Adam Voges, who struck a nice 52-ball 71. However, with the way KKR are playing, and chasing down totals, at the moment, it proved to be just shy of what was needed.
"The guys have taken up great responsibility," said Gambhir at the presentation ceremony. "Suryakumar Yadav played an unbelievable innings and he showed he has a great head on his shoulders. He has got a great future.
"Also Kuldeep Yadav. We needed someone who can complement Sunil and he is someone who can. Overall we are looking good. There is a lot of hunger in the dressing room."

You can also catch the full highlights of the KKR vs Perth Scorchers match HERE or HERE.